You guys spoke, and we listened! A few weeks ago I asked you to share what kind of recipes you'd want to see shared on the website. An overwhelming amount of you requested more snack recipes, and it did not go unnoticed. So, let's start with a festive one, just in time for Valentine's Day! This delicious fruit salsa is the perfect afternoon, and/or even after school snack… or even dessert! It's just as delicious as it is healthy and fun!
The heart-shaped, oven-toasted tortilla chips make it a fun snack to serve when hosting as well, because of how presentable they are, making it a really cute dish. Whip this up in no time at all, with the option of even making it all ahead of time (my favourite kind of recipes).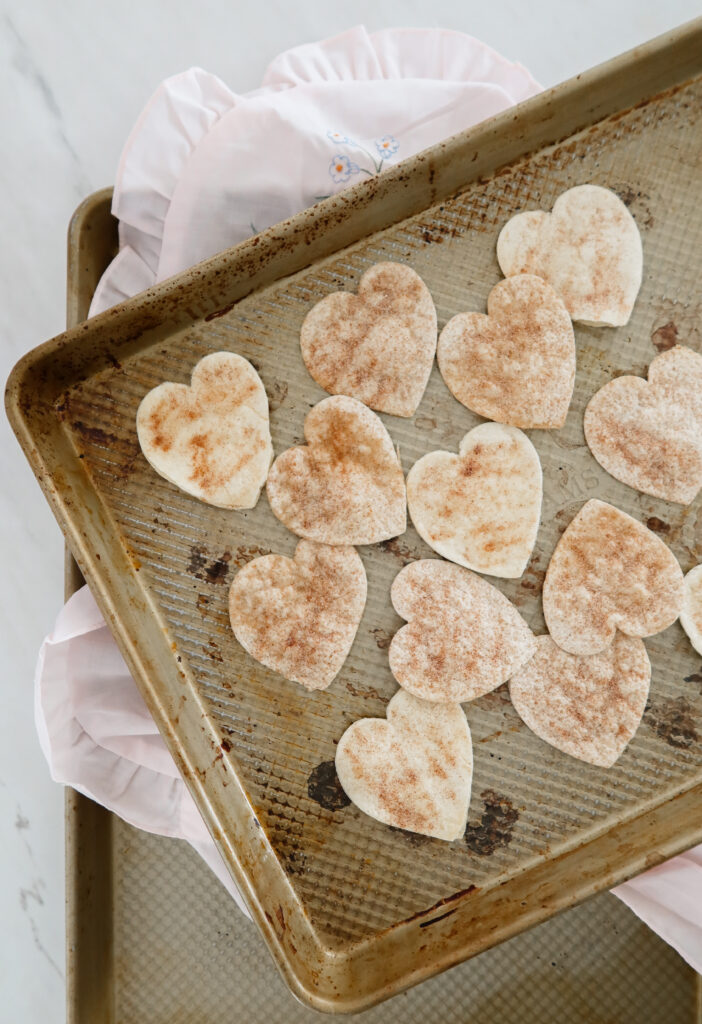 Just like with a classic salsa, just scoop a generous amount of the fruit mixture onto a tortilla chip and enjoy! It's fun, festive, and a snack that is sure to make little ones excited!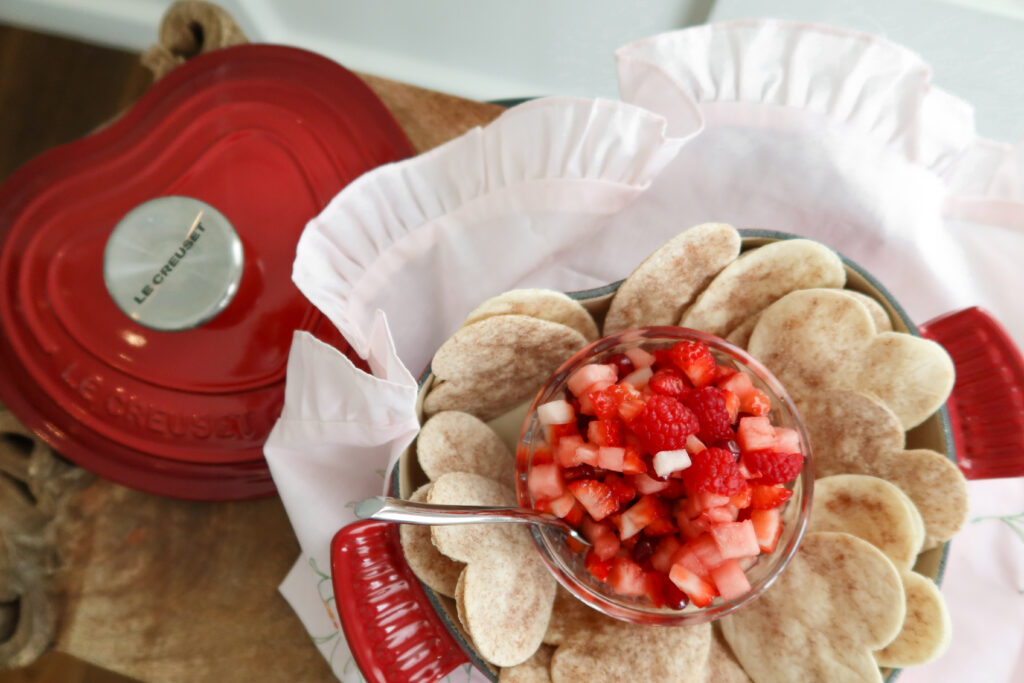 The recipe will yield more simple syrup than you will need (allowing you to also adjust the level of sweetness to your liking). I suggest you use the leftover to stir up a delicious cocktail (heck, you can even throw in some of the fruit… with some rum, yum!). The simple syrup will keep well in an airtight container stored in the fridge for up to two weeks.
Enjoy! xx
Fun Fruit Salsa Dip
Ingredients
1/2

cup

water

1/2

cup

sugar

2-3

fresh mint leaves

1

inch piece

fresh orange peel

½

vanilla bean

split lengthwise

4

tortillas

cut into heart shapes using a cookie cutter

2

tbsp

avocado oil

(or melted unsalted butter)

1

tbsp

cinnamon

1

tbsp

sugar

½

cup

strawberries

diced

½

cup

pink pineapple

diced

½

cup

pomegranate seeds

½

cup

raspberries

chopped
Instructions
To make the simple syrup, combine the water, sugar, mint, orange peel and vanilla bean. Let simmer until sugar has dissolved and liquid has reduced, roughly 10 minutes. Set aside and let cool down completely.

Using a heart shaped cookie cutter, cut out the tortillas in hearts. You may use plain tortillas, whole wheat, or a mix of both.

Line the tortilla hearts on a baking sheet, brush avocado oil on each and bake at 350 degrees Fahrenheit for 5-10 minutes or until golden (depending on your oven).

In a small bowl, combine the cinnamon and the sugar. Set aside.

Once toasted, sprinkle the cinnamon sugar onto the hearts and let cool down completely before serving.

Gently toss together all of the fruit in a bowl. Add 1-2 tablespoons of the simple syrup, depending how sweet you want it. Set aside.

Place your fruit salsa in a bowl, served with the heart chips on the side. Serve by scooping a spoonful of the fruit salsa to top a chip.