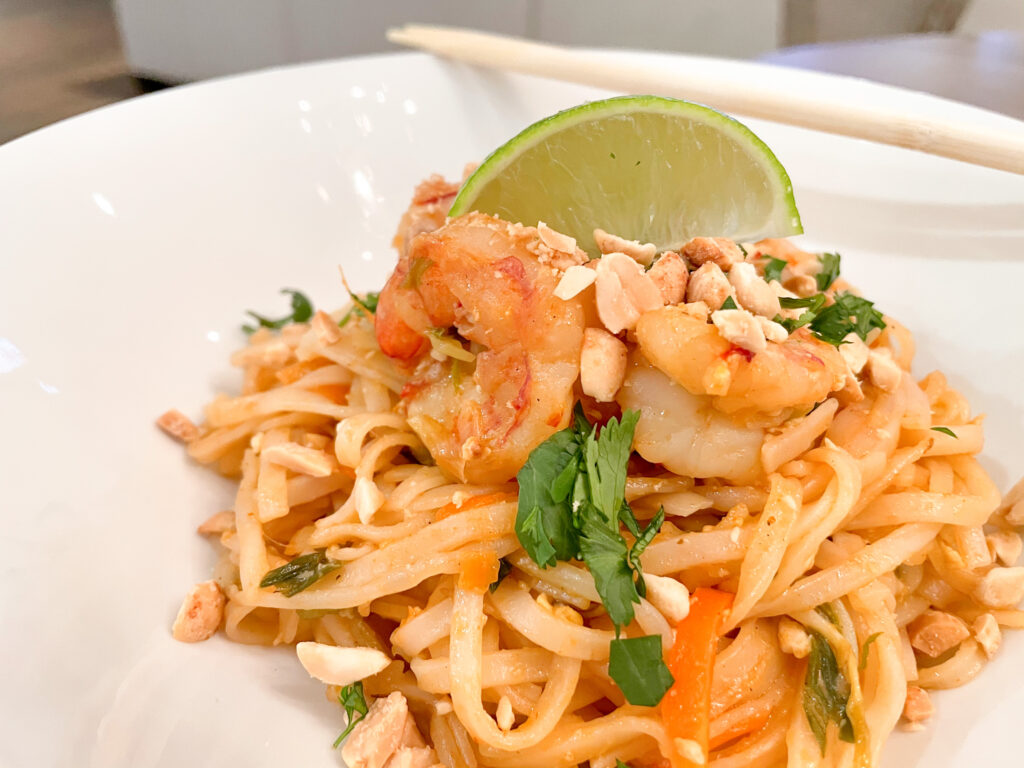 I have been trying to make an effort to incorporate more seafood into the recipes that I am testing lately. And, for some reason, I always tend to gravitate towards Asian flavours when I do.
I have tried my hand at pad Thai in the past, with little to no success. When I come up with recipes, I try my best to create them using ingredients that are either readily available in most grocery stores, or that are common in my roster of ingredients for a lot of my recipes. I assume that if you are an avid follower of mine and enjoy the recipes I create, then you too, will likely have these ingredients on hand in your pantry or fridge.
I have always been frustrated that I could not create something worth sharing when it comes to pad Thai. So, I made it my mission to learn more about the flavours to include and how to create them without requiring a trip to an Asian market to be able to put it together.
By no means is this a truly authentic pad Thai recipe, but it is the closest version to it that I have been able to achieve with minimal and uncomplicated ingredients.
This recipe can also be made vegetarian, with chicken, tofu or any other protein alternative really. This makes it versatile and adaptable for the pickier or food-restrictive eaters in your family.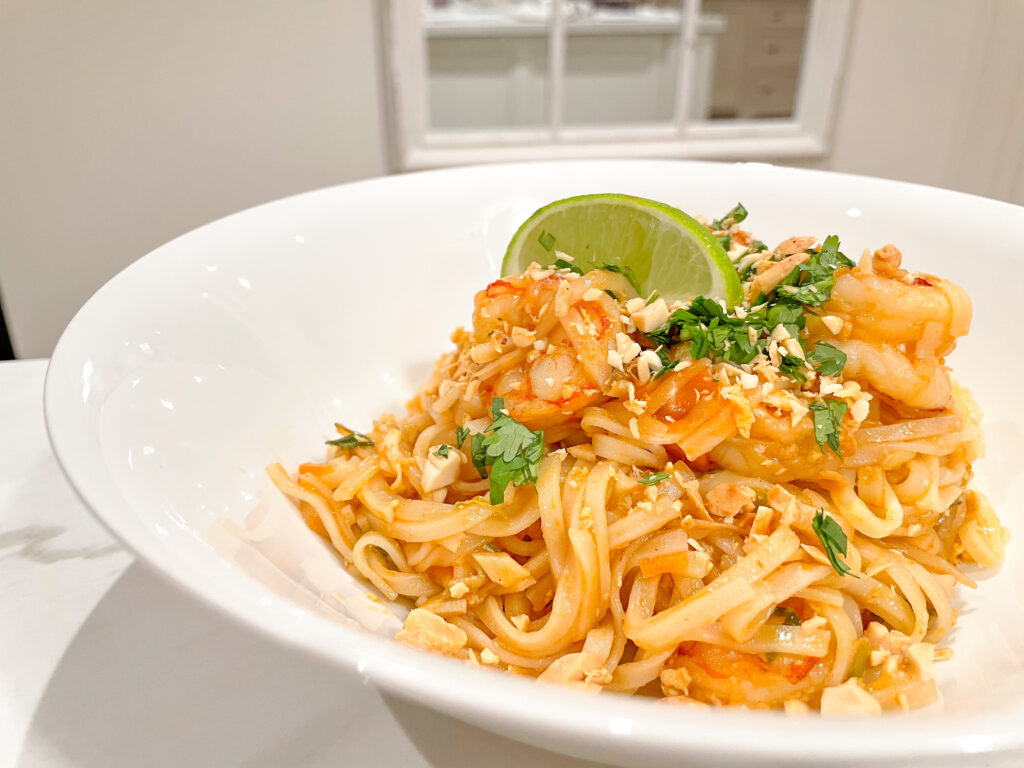 This will surely become a regular in our house, as both Franco and I loved it – and I was able to whip it up in no time. Perfect for busy nights, or nights where you want to make the effort to cook, without requiring you to become exhausted doing so! Everybody is sure to enjoy this recipe; it's delicious, healthy, and simple!
Enjoy! XX
Easy Shrimp Pad Thai
Ingredients
For The Sauce
1

tbsp

rice wine vinegar

3

tbsp

brown sugar

2

tbsp

low-sodium soy sauce

3

tbsp

fish sauce

4

tbsp

oyster sauce

2

tbsp

Sriracha

(put less if you want less spicy)

1

lime

juiced

2

tbsp

water
For The Noodles
200

g

pad thai rice noodles

4

tbsp

avocado oil

(optionally use olive oil)

1/2 cup

scallions

sliced (white and light green parts only)

4

garlic cloves

finely chopped or minced

2

large carrots

very thinly sliced

340

g

medium wild shrimp

fresh or frozen, cleaned & deveined

3

eggs

whisked

salt & pepper

to taste (be wary that the sauce is already quite salty)

1

cup

mung bean sprouts
roasted peanuts

chopped, for garnishing

cilantro

chopped, for garnishing

lime

cut into wedges, for garnishing
Instructions
For The Sauce
In a small mixing bowl, whisk together all of the ingredients for the sauce and set aside until needed.
For the Noodles
Cook your noodles according to the package instructions. See notes for my tips on how to cook them.

In a wok or large skillet, heat the avocado oil on medium heat. Once heated, add in the scallions and the garlic cloves and cook until slightly softened and fragrant.

Add in the carrots and cooked until slightly softened – roughly 4 mins.

Push the cooked vegetables to one side of the pan. Drizzle a tiny bit more oil on the empty side, add in the shrimp and sauté until cooked through (3-5 mins). Then, mix the whole together.

Make a well in the middle of the pan, add in the whisked eggs and scramble them. Once cooked, mix the whole together.

Add in the mung bean sprouts, toss to combine. Salt & pepper to taste.

Add the sauce into the hot pan, mix to combine, and cook for about 2 mins, or until bubbly and starting to thicken slightly.

Add in the cooked noodles, and mix to combine – gently not to break the noodles.

Plate generously, and top with chopped peanuts, cilantro and a lime wedge. Serve warm.
Notes
My suggestion for cooking the noodles is to bring a pot of water to a boil, add in the noodles, shut off the stove and allow to cook (keep them slightly al-dente as they will soften some more when added to the sauce and veggies). Once cooked, strain them and run them under cold water to stop the cooking. Drizzle and toss with a touch of avocado oil to keep from sticking. 
If using frozen shrimp, I suggest letting them drain on a plate lined with a paper towel before cooking, to ensure they are no longer holding water.