I teamed up with Linen Chest to create the perfect cocktail party serving station. Hosting for the Holidays doesn't have to be complicated to be pretty, and I am here to show you how to easily achieve a setting that is sure to impress!
When it comes to accessorizing a buffet or cocktail table, I like to invest in some pieces that will carry me through multiple Holiday seasons or that can be used and reused in different ways/ settings. I also like to make use of items in ways that may be different than their intended purposes. It gives a lot more versatility to your serve-ware, which makes it fun and creative to come up with table displays.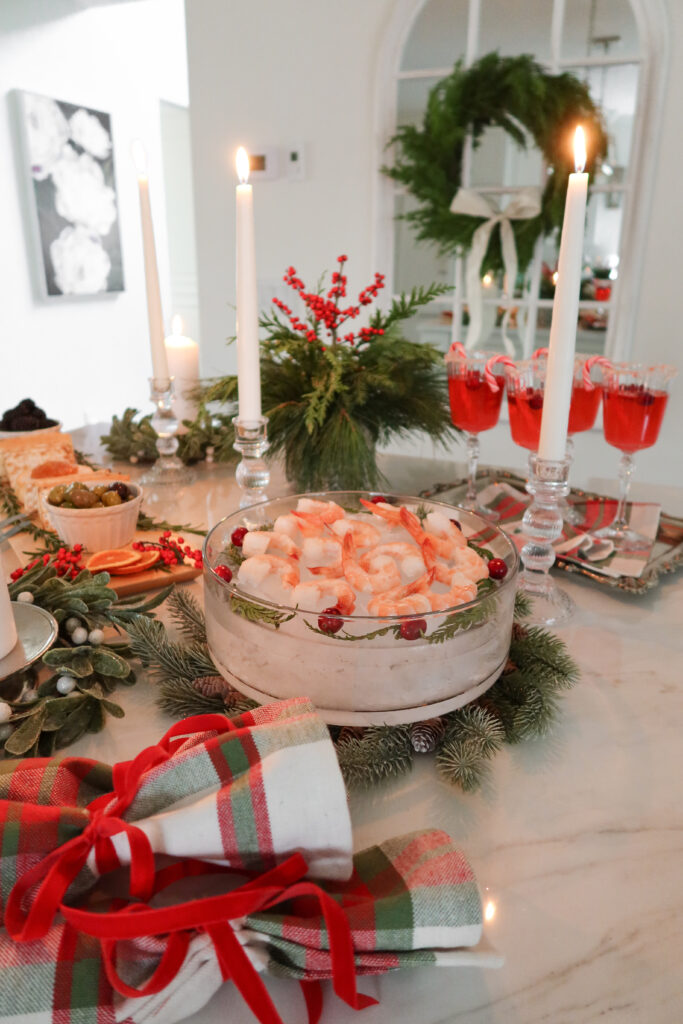 When I host friends and family for the Holidays, my favourite way to go about it is with a cocktail party. Holiday gatherings tend to be held in larger crowds, which makes sit-down dinners a little more complicated to accommodate. But just because you may lack the room to sit everyone comfortably in your dining room, it doesn't mean that your cocktail table can't be set up in a lavish and festive way!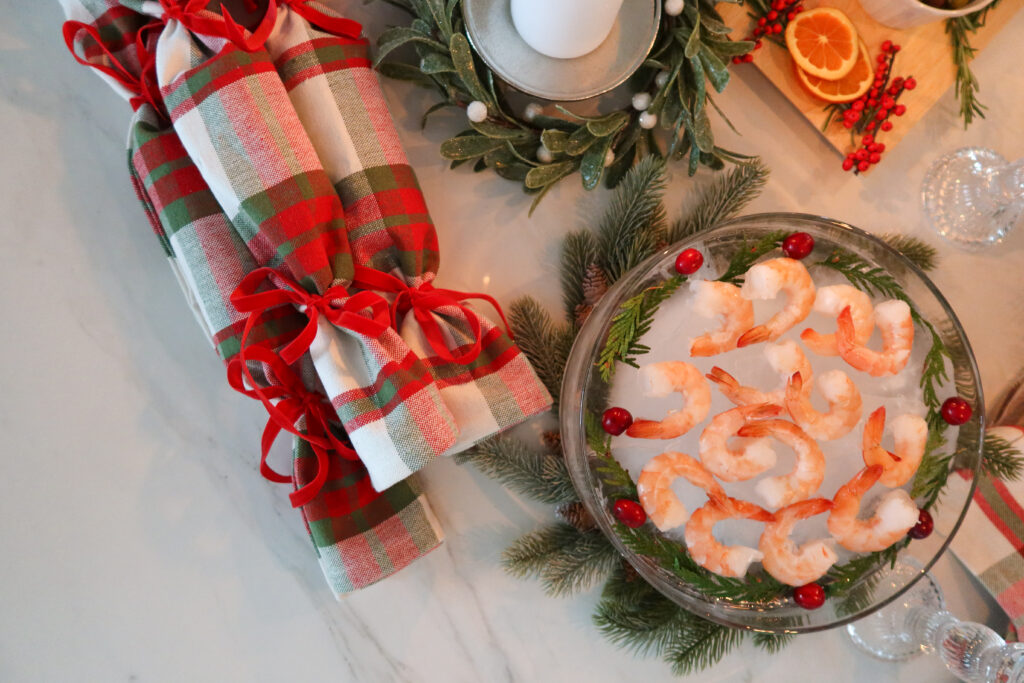 To create this tablescape I used a few items that I consider "staples" for hosting and table decorating, as well as others that would be considered more seasonal, but also versatile. So let's get into the nitty gritty of it! See below for links to the items I used in this set-up, categorized by hosting staples that I feel everyone should have in their kitchen, to Holiday add-ons that bring that magic touch! Click on the title of each item, it will link to each respective product.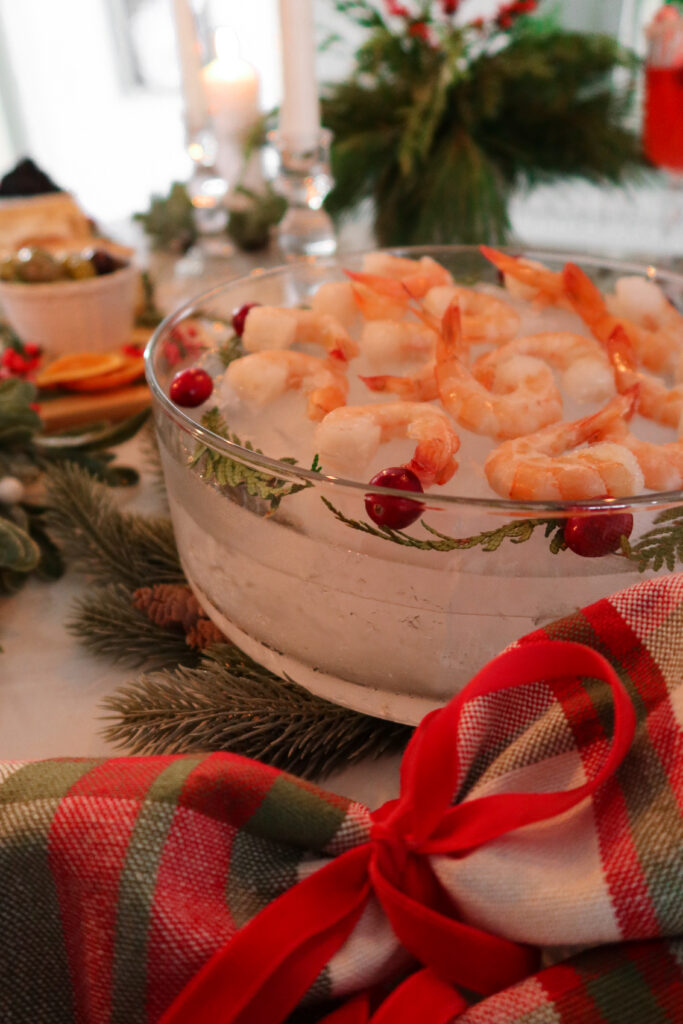 Some of my favourite staples:
Low pillar candle holders
These can be used year-round and in many different ways. Use them to decorate your tables for dinner parties, your counter for cocktail parties, or even to create elegant vignettes in different spaces in your home.
Laguiole Cheese Knife Set
Everyone needs a good set of cheese knives. A fundamental part of any cocktail party or appetizer course, is generally, a charcuterie or cheese board. Laguiole is my favourite brand for steak knives, and their cheese knife set is just as fantastic. It will last you years with the brand's unmatched French quality.
Ceramic Ramekins
I use these for everything from food prepping/ mise-en-place, to serving. They work especially well on a cheese board to place nuts, olives (or to place olive pits), as well as other elements. I'd go as far as saying that these ramekins are some of my most-used kitchenware – and they couldn't be any nicer!
Wood Charcuterie Board
This one is relatively self-explanatory. A wood board has many different uses and a long, plain one is as versatile as they come. Every single kitchen needs one, without a doubt. This one is a must-have staple.
Fancy Crystal Glassware
I like to keep a set of crystal glassware for special occasions and elevated table settings. When a signature cocktail is part of your menu, it's always nice to serve it in something a little more fancy. This set is one of my favourites – it's timeless and elegant and works in many different settings, at a very fair price point!
Shallow Glass Bowl
Fruit salad? Pasta salad? Seafood salad? Trifle?… Fruit bowl? A simple, good quality glass bowl is probably the most versatile of all staples. You can also get creative and use a freezer-safe vessel in a similar shape to create an ice block, which can then be transferred into the glass bowl to use as an ice-sculptured seafood platter, like I did for this setting! It will catch the melting ice, without any mess, while creating a visually appealing element. A simple way to get creative and fancy!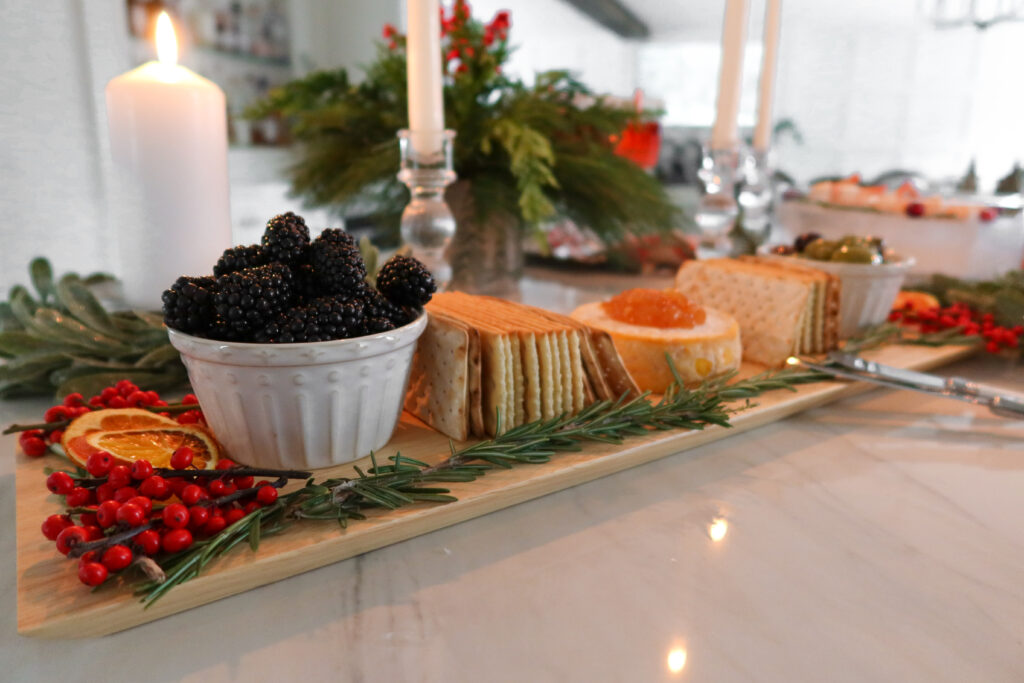 Some festive add-ons:
Small Pine Wreath
Hang it, use it as decor… or find an even more creative way to work with it, like I've done here. A mini wreath is the perfect item to sit your serving platters atop to bring the festive look together in a simple way.
Holiday Planter
I think I have an unhealthy addiction of collecting different vases and other vessels for floral arrangements. So when I set my eyes on this cute Holiday planter, I knew it would be the perfect tabletop accessory. The design on this planter is actually a winter scene, which means you can use it all through the colder months! Arrange some Holiday greenery in it, or use it as a base for a small plant – it's adorable!
Mini Wreath/ Candle Crown
Just like the small pine wreaths, these also have multiple decorative uses!… and they take your candle holders up a whole festive notch!
Bow Napkin Rings
Although I didn't use these in this setting, they are a great, sparkly addition. I always like to use cloth napkins to elevate a dinner setting and these just tie it all together with a beautiful shiny bow!…. and can be used beyond the Holidays for sure! And who doesn't love a little sparkle at Christmastime?
Happy Hosting! XX