Fall/ Thanksgiving, means being invited to a whole lot of dinner parties! It also means answering the age-old question: "What do I bring?!" Thankfully, I have a cute and delicious hostess gift idea for you. It's easy to make, it's beautifully presentable, and it is sure to please any host. It's apple butter!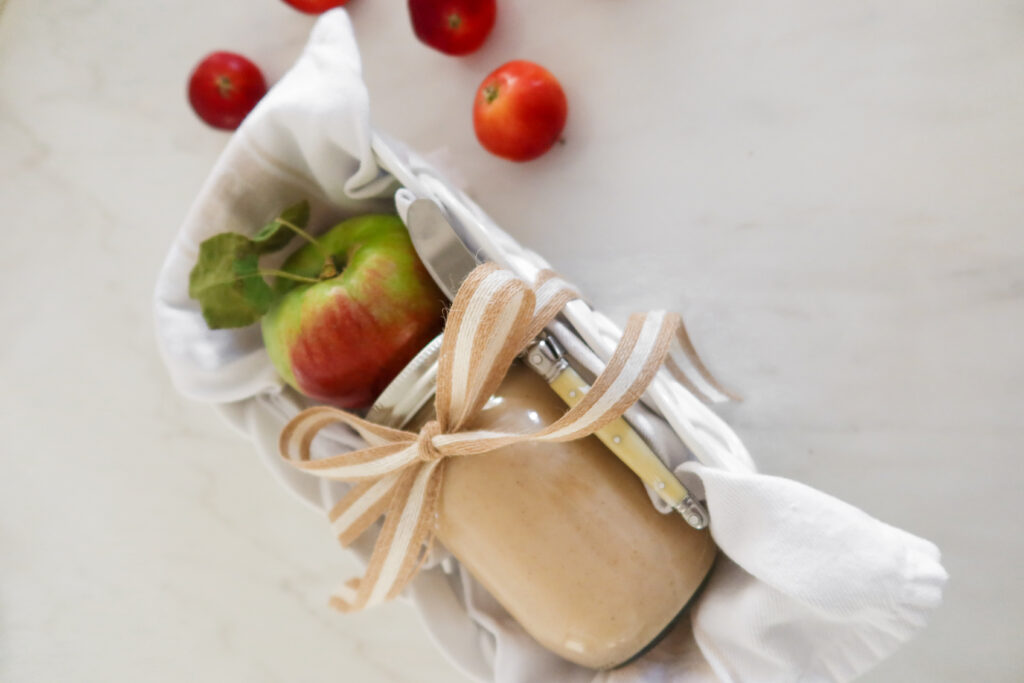 Apple butter can be smeared on pretty much anything! Spread it on toast (french toast!) with ricotta, pair it with cheese (and level-up any old grilled cheese sandwich by adding it in), glob it onto a homemade muffin or scone… or eat it by the spoonful!
I always love bringing homemade goods when I am invited to someone's home for a meal, when I can. But it is always nice to also include something that the host can keep once your goods are gobbled up. You don't necessarily have to spend a fortune to do this, but this cute little package is sure to impress!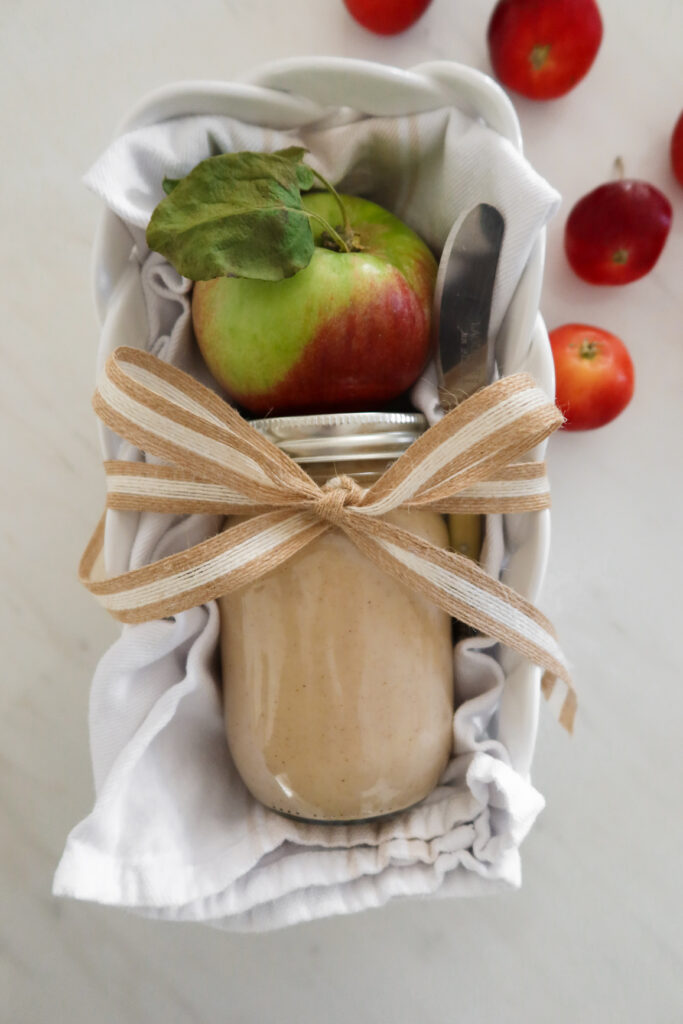 It's nice to wrap any homemade good in something that can be kept, and more importantly, that can be used, once you've left. So for this, I thought of a cute idea to share with you. You can bet that this is exactly what I'll be bringing to the various Thanksgiving festivities we will be attending this year.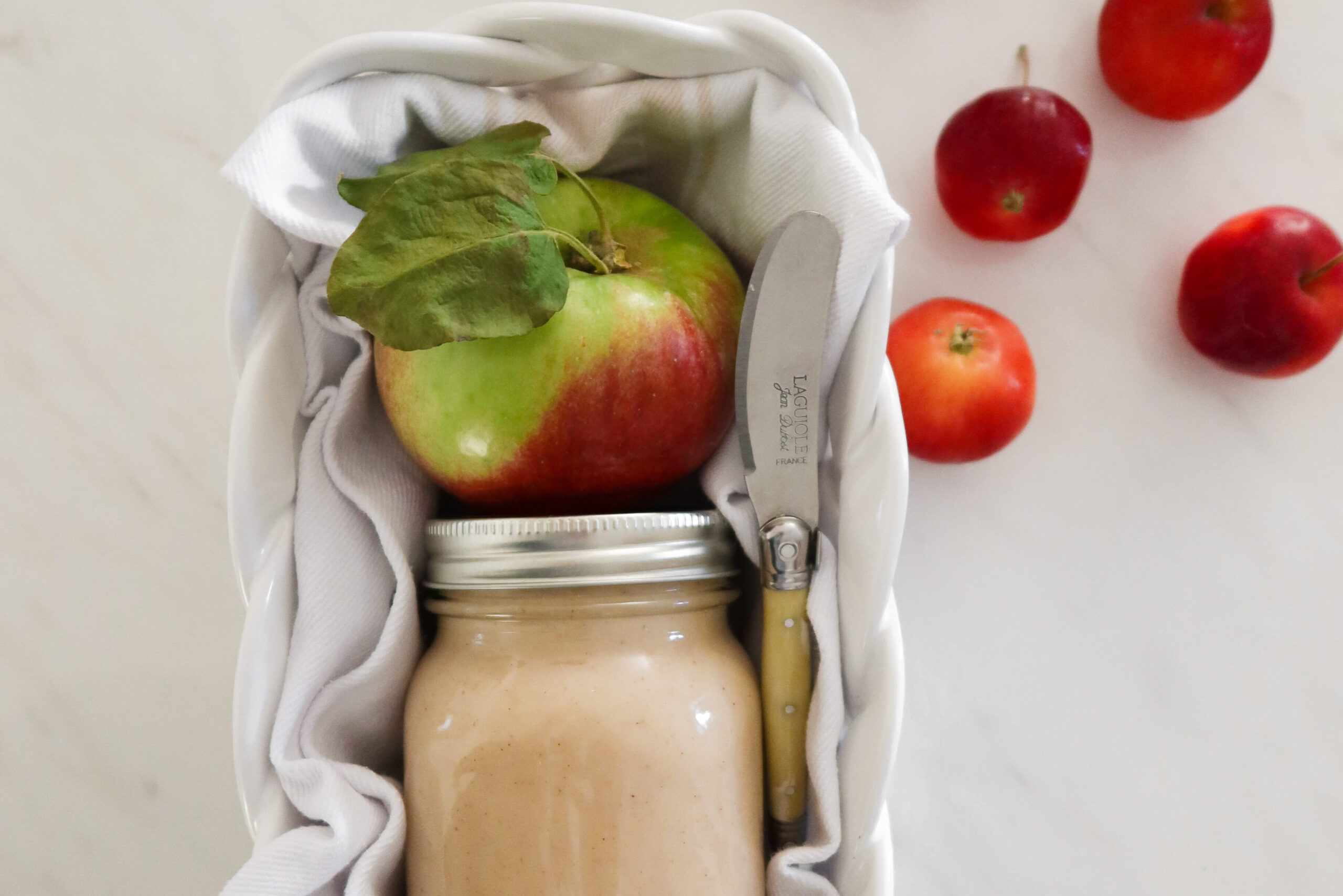 To recreate this look, this is what you will need:
– Homemade and jarred apple butter (recipe below)
– A ceramic bread basket (or even a ceramic loaf pan!)
– A tea towel (make is seasonal or neutral)
– A fresh, leafed seasonal apple (preferably freshly picked, if you went apple picking!)
– A spreading knife
– Some cute ribbon for tying it all together
I thought I should share my "secret" tips and tricks I keep up my sleeve when creating hostess gift packages like these.
For the bread basket (or ceramic loaf pan):
– Buy it at the dollar store or Homesense! The dollar store will evidently be the most economical option, but you can also find some really cute and inexpensive options at homesense (like this beautiful braided one from homesense, which I purchased for only $12!)
For the tea towel:
– Again, you guessed it, buy it at the dollar store or Homesense. You can often find packs of 2 or 4 beautiful tea towels at Homesense for under $10. I usually grab those packs, which allow me to create multiple gift packages like these.
For the spreading knife:
– This too I buy from Homesense, usually in packs of 4 or 6, as well. But what happens when you break the set by adding one into your gift, you may ask? Well, you use the remaining 3 or 5 for other gifts down the line. (I actually create a similar hostess gift throughout all the seasons – think summer, strawberry jam, winter, hot chocolate mix and spring, pickled beets, radishes or other veggies!)
In total, this whole hostess gift costs me no more than 20$… and hey, it's prettier and a lot more exciting than your usual bottle of wine for the same price! (But I will also always accept wine as well… just saying… hehe).
Hope you try out this recipe, and let me know how your friends react to this thoughtful gift!
Enjoy! xx
Apple Butter
Ingredients
8

large Cortland apples peeled, cored and sliced

⅔

cup

granulated sugar

1

tsp

ground cinnamon

½

cup

salted butter melted
Instructions
In a pot, over medium heat, add the apples, sugar and cinnamon.

Cook on medium/low heat for about 15 minutes until the apples have softened significantly, but without burning the sugar.

Add the apple mixture to a powerful blender with the melted butter (be sure that your blender can handle hot contents).

Blend until you reach a smooth, buttery consistency.

Let cool fully (this will allow it to thicken and form a spreadable butter consistency). Spoon the mixture into an air-tight container or jar and keep refrigerated.
Notes
*This apple butter will last up to two weeks in an airtight container, stored in the fridge.