Okay, so how many Holiday parties do you have on your calendar in the next two weeks?… A million? Thought so. With that comes the need to show up with a hostess gift, and sometimes you want to make it more interesting than a bottle of wine. However, it may be hard to come up with creative ideas, so I am here to help.
Along with Linen Chest, I conceptualized three easy-to-put-together gifts that are sure to please any host. They go by various themes and are very adaptable, meaning that you can mix and match different products, and still make the whole of it work.
All the products you see here are linked for you to easily purchase and replicate the look. Click directly on the product name to open the link to the item.
The Baking Bowl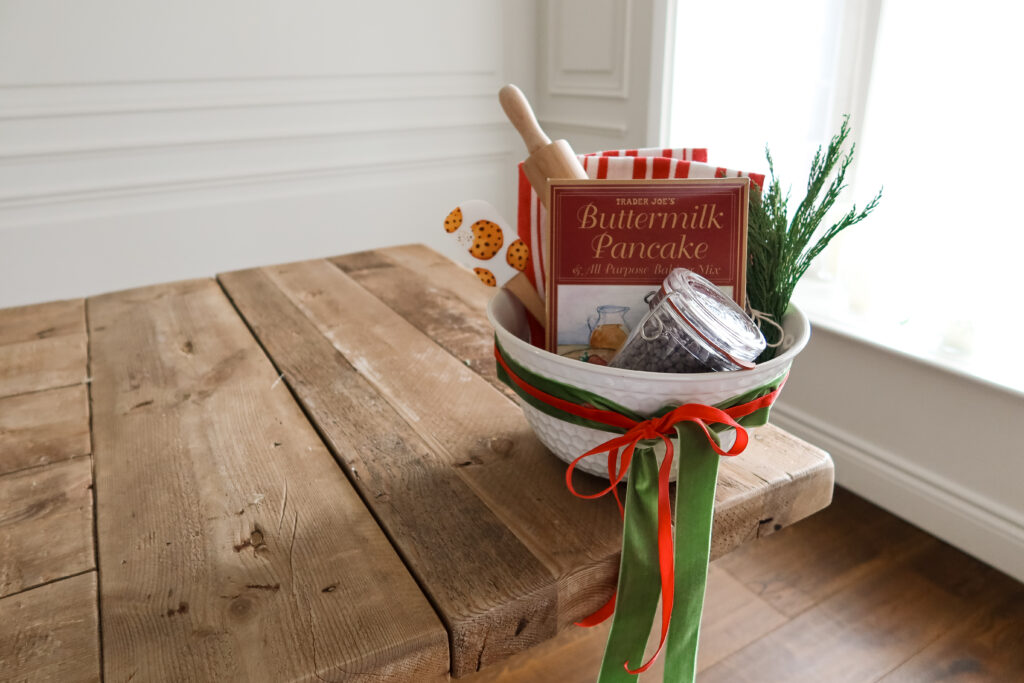 This is the perfect gift for the host who loves to cook/ bake. It includes items that are useful in the kitchen, but also festive for the Holidays. I added in some pancake mix and a jar of chocolate chips for a fun and easy Christmas morning brunch, but this gift bowl would be equally delicious with a jar of your best homemade cookie mix (be sure to add in a note with the recipe and a list of the fresh ingredients required, like eggs, etc.).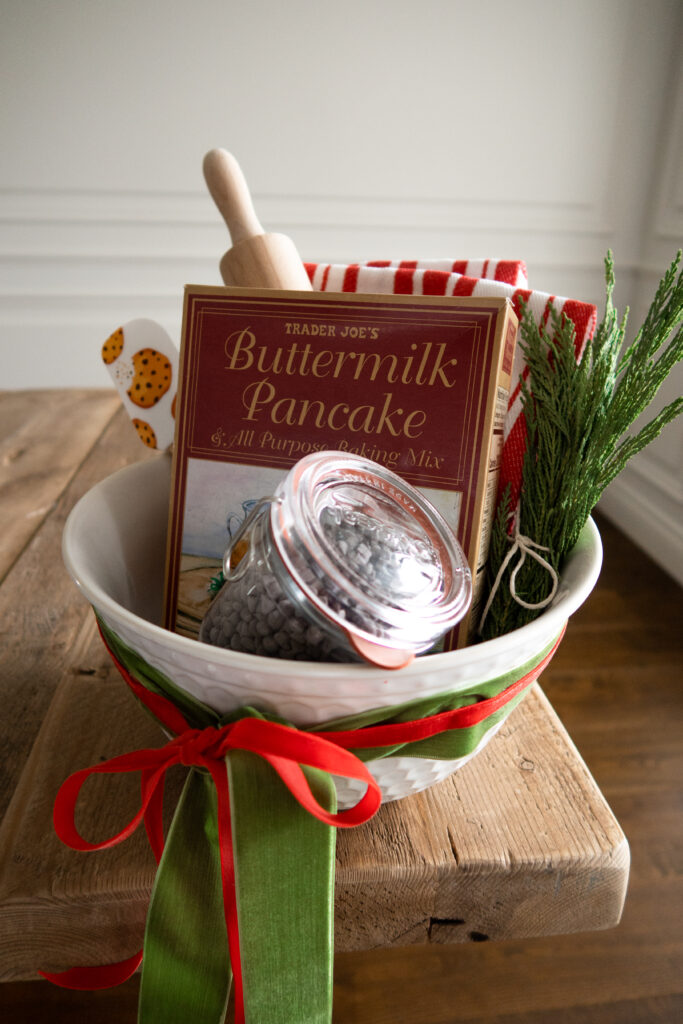 Here is a list of all the items used to put together this delicious gift:
Ceramic Mixing Bowl
Set of Striped Towels
Silicone Spatula
Small Wood Rolling Pin
Small Glass Ja
The Relaxation Box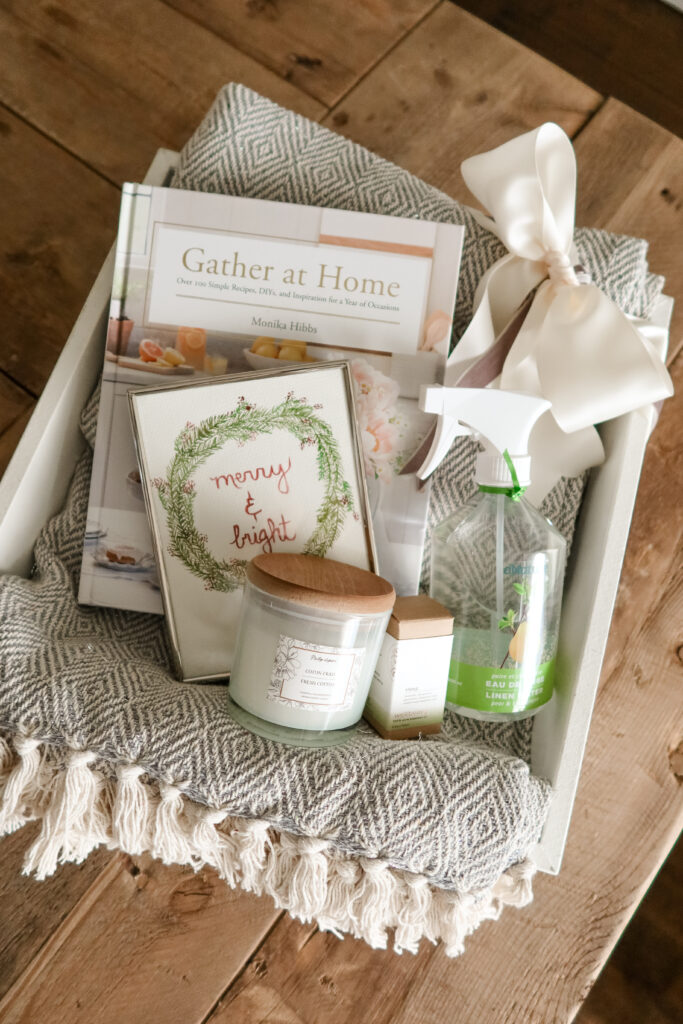 The Holidays can be a busy, stressful, and chaotic season. So I can tell you from experience that giving the gift of relaxation is something that ANY host is sure to enjoy once the madness is over. I put together an entire box filled with various items that are guaranteed to lower those cortisol levels, come December 26th!
From a cozy blanket, to some relaxing essential oils, fresh linen spray, a delightful candle, and a book you think the person would enjoy – it's the ultimate starter kit to "chilling out".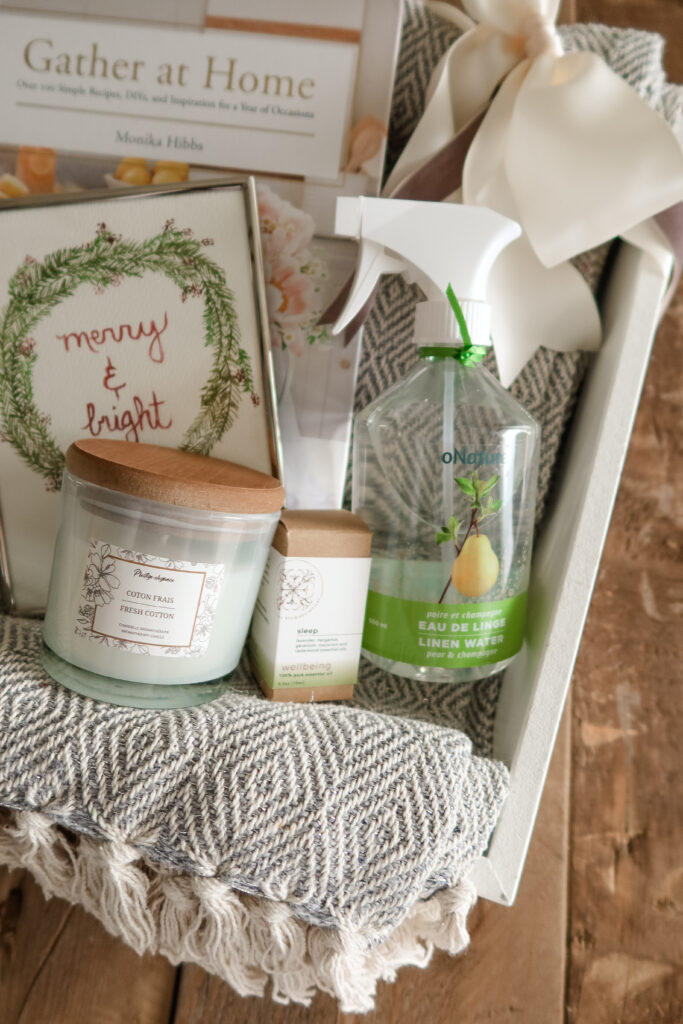 Here is a list of all the items used to put together this relaxing gift:
Cozy Blanket Throw
Essential Oil Aroma Blend
Fresh Linen Spray
Cotton Scented Candle
Picture Frame
The Petit Potpourri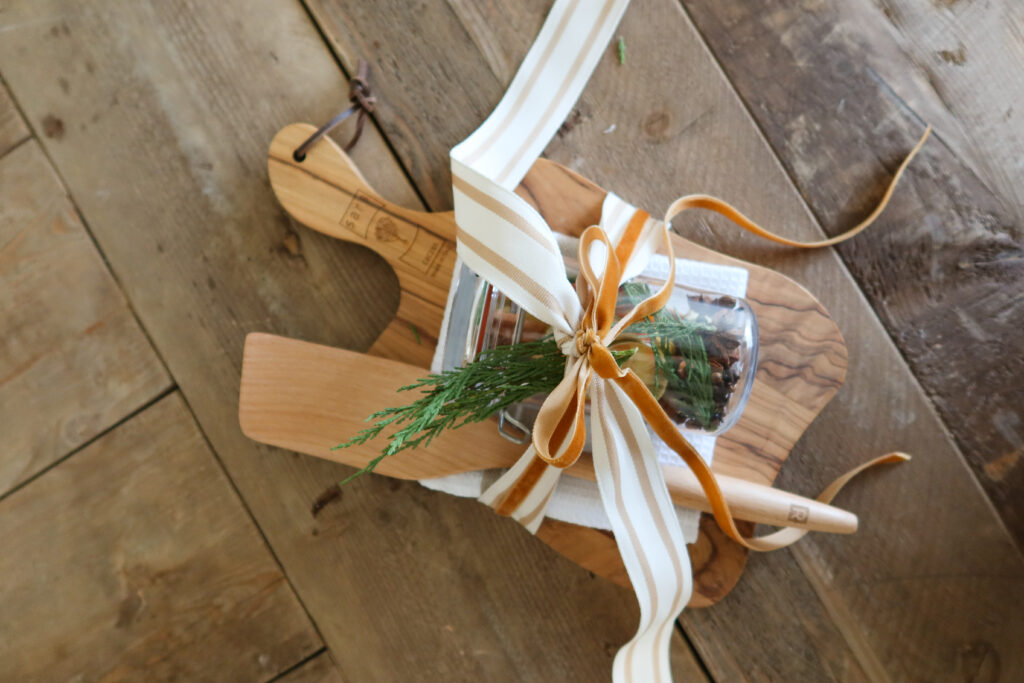 Simple, and practical, this gift is literally Holidays in a jar! A beautiful olive wood presentation board anchors this whole gift – something that has many uses and is practical in any kitchen. A pretty, neutral dishcloth and a wooden spoon for stirring tie the whole kitchen-centric theme together. But the feature piece is a jar of ready-to-simmer homemade potpourri. Made up of spices and other elements that, when boiled on the stovetop, bring the aromas of the Holidays throughout your entire home. This gift sets the perfect tone for receiving guests in a warm and comforting ambiance.
For my homemade potpourri, I include: thin citrus and apple slices that are dried in the oven, cinnamon sticks, whole cloves, fresh cranberries, and fresh cedar or spruce. I then pack it generously into a quality glass jar that can be used and reused by the person receiving it, once they've emptied the contents! Like I said… literally Holidays in a jar.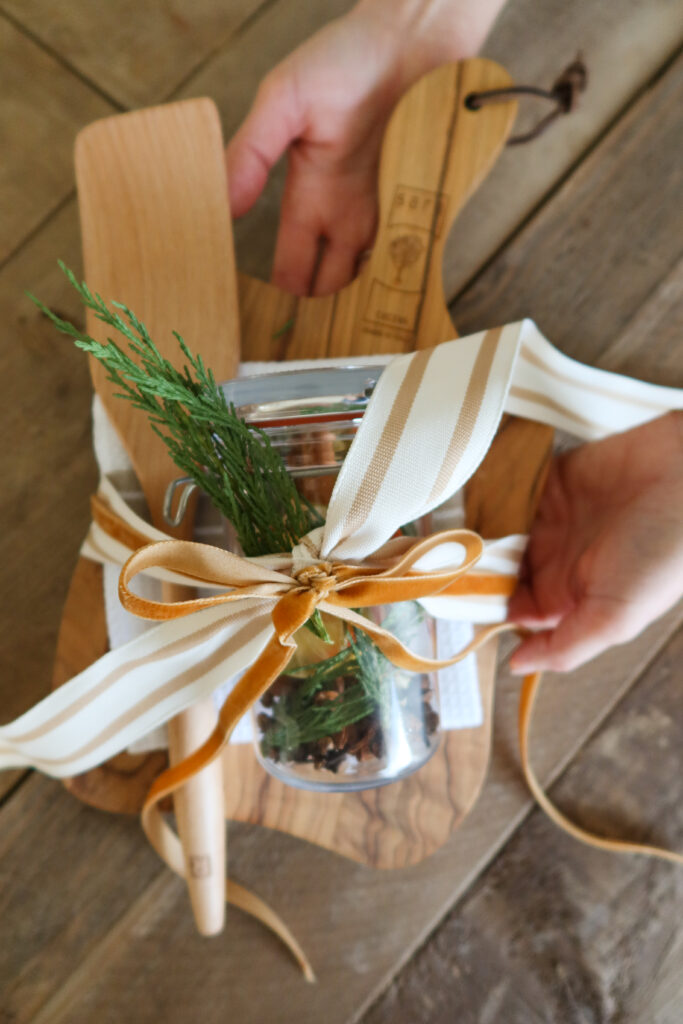 Here is a list of all the items used to put together this festive gift:
Wooden Spatula
Set of Kitchen Towels
Olive Wood Cutting Board
Large Glass Jar
Tip: Make your wrapping of these gifts fun! Buy some festive ribbon (I personally love velvet ribbon for the Holidays), which is easily available on Amazon or in craft stores like Michaels. Layer the ribbon for rich texture, which elevates the whole thing. People are always impressed by great wrapping, or a big fat bow!
Happy Gifting! XX