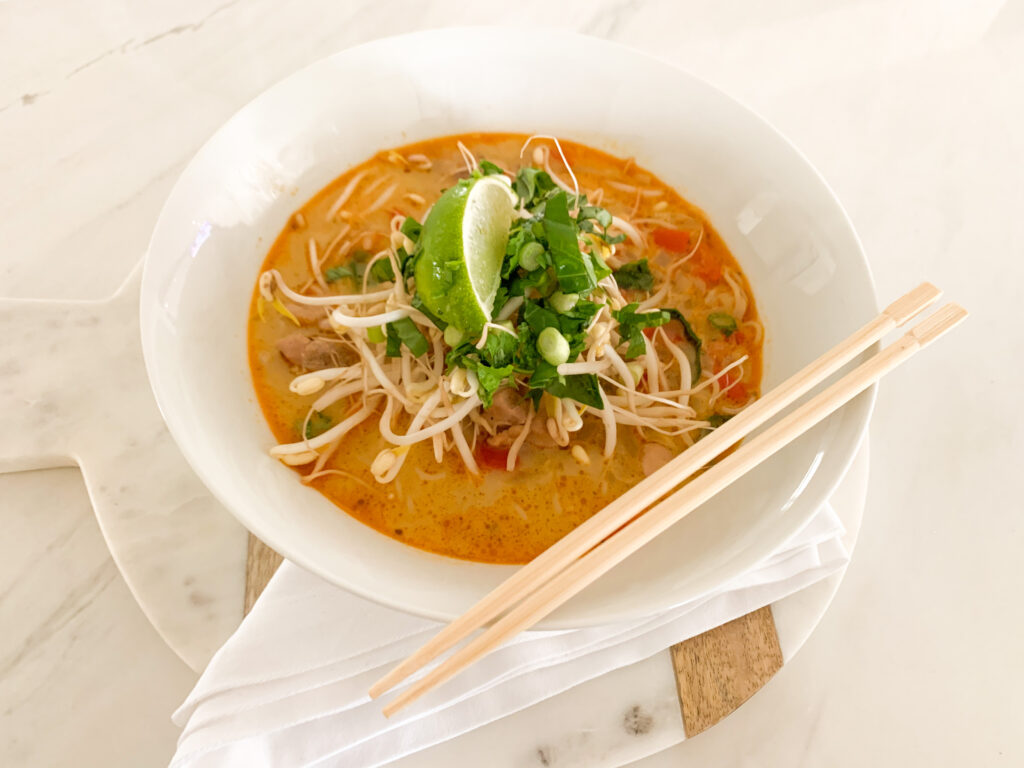 It's no secret that second to Italian flavours, Asian flavours are my favourite to play with in the kitchen! I love re-creating versions of dishes that I order in restaurants. I think I do this in an effort to make them healthier and friendly to the home cook (and without the dreaded MSG, obviously).
Thai food happens to be one of my favourite cuisines of all time. Yet, it's the one that I try my hand at the least. But a few weeks ago, when I was restocking on some of my Asian sauces, I came across a jar of Thai red curry and I bought it thinking that I would be fun to come up with a recipe using it.
Ironically, my friend Melina messaged me a week or so later telling me that she made an incredible coconut milk soup with delicious and healthy brown rice and millet ramen noodles that she found at Costco. She told me that I absolutely had to buy these – so naturally, I did. I was inspired by her soup and had the idea to try and whip up a Thai red curry noodle soup that I generally love to order in Thai restaurants. Such a winner. These noodles are absolutely as delicious as she said they were! But, if you can't find them, rice vermicelli noodles work just as well!
There's no reinventing the wheel with this soup – it's based on traditionally Thai flavours. There are many versions of this recipe that you can find online. What I did here was try to hone in on those time-honoured Thai ingredients, while emphasizing my favourites (ahem, load up on ginger and lemongrass!).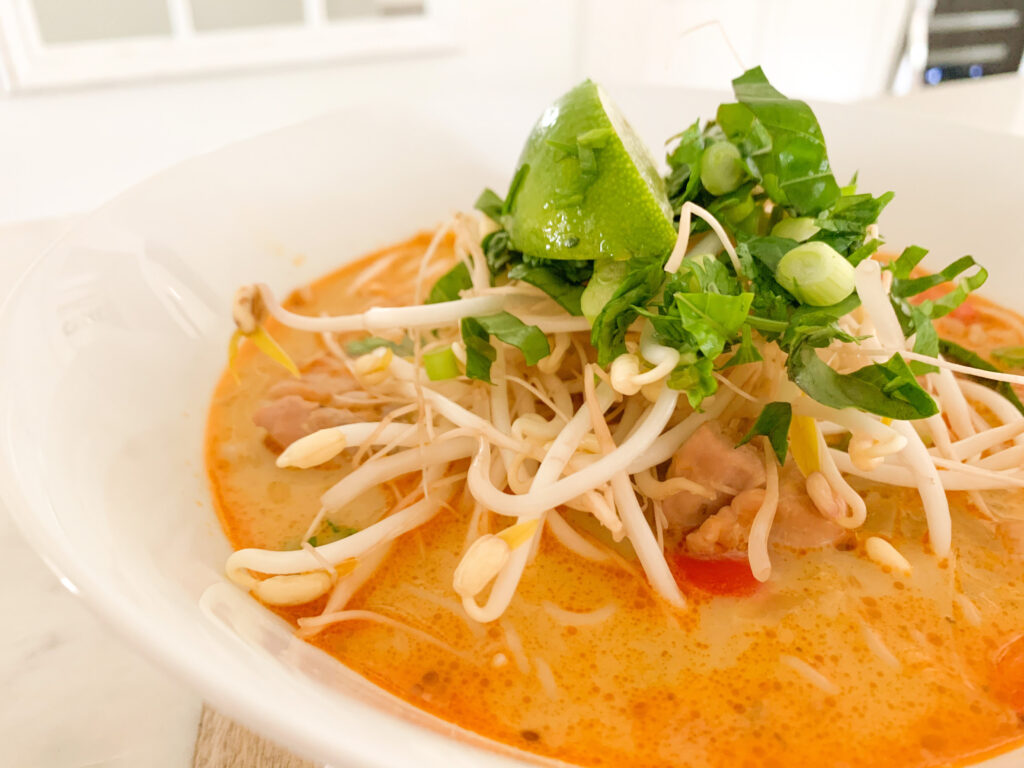 I am so happy that I tried my hand at this dish, because it was honestly a home-run! Franco said it was one of the best soups I ever made. I guarantee that this recipe will find itself on current repeat in our house, throughout the winter months! Oh, and here's to trying to make more Thai recipes at home!… I think Pad See Ew will be my next experiment!
Enjoy! XX
Thai Red Curry Noodle Soup
Ingredients
2

tbsp

olive oil

2-2.5

lbs

boneless, skinless chicken thighs

cut into cubes

salt & pepper

to taste

1

sweet onion

diced

1

red bell pepper

diced

4

garlic cloves

minced

4

tbsp

Thai red curry paste

important to use the Thai one

1

tbsp

fresh ginger

minced

6

cups

low-sodium chicken broth

1

can

full-fat coconut milk

1

stalk

fresh lemongrass

lower bulb and tougher outer leaves removed, and sliced in half lengthwise

1

tbsp

brown sugar

4

tsp

fish sauce

15

oz

rice noodles

(I like to use the organic millet and brown rice ramen noodles from Lotus foods, which I buy at Costco – but any rice noodle will do)

4

cups

bean sprouts

1

bunch

fresh cilantro

roughly chopped

1

bunch

Thai basil (or regular basil)

roughly chopped

4

green onions

sliced in rounds

2

limes

sliced into wedges
Instructions
In a large, heavy-bottom pot over medium heat, heat up the olive oil, add in the chicken, season with salt and pepper. Cook the chicken until brown and nearly cooked through.

Add in the onion and red bell pepper and cook until softened and the onions are somewhat translucent.

Add in the garlic and cook until fragrant.

Add in the Thai red curry paste and garlic – stir to combine all the contents entirely. Allow the curry paste to become fragrant and toast slightly.

Add in the broth, coconut milk, and lemon grass. Stir to combine and let it come to a bubbling, high simmer.

Once simmering, add in the brown sugar and fish sauce. Stir to combine, reduce the heat to a low simmer, let cook for 20 minutes, allowing the flavours to combine.

In the meantime, bring another pot filled with water to a boil and cook the noodles according to the package instructions, making them al dente (they will cook further in the hot soup and you don't want them to become mushy).

Once the soup has simmered for 20 mins, remove the lemon grass and begin preparing your soup bowls.

First, place a some noodles in the bottom of the bowl, top with the soup, add a handful of bean sprouts and top with a sprinkle of the cilantro, basil and green onions. Squeeze a wedge of lime juice overtop and garnish with an additional wedge.

Serve hot and if you want added heat, add in some sriracha!