It's the most wonderful (expensive) time of the year!… What better way to kick off the spending spree, than by gathering some inspiration from your favourite homemaker?
Kidding aside, I have put together an exhaustive list of perfect gift ideas, with an added attention to local finds. I always have and always will be a huge advocate for supporting local business, and this year it's more important than ever before.
I know that Amazon Prime makes it easy to shop at the click of a button, but I can guarantee you that the joy you bring to a local entrepreneur when you order from their small business is well worth the minimal added effort.
Not all of my favourite local shops have an online store, so I have also included a list of my favourite shops that offer fun finds for Holiday gifting, linking to either their website, Instagram account, or location. Simply click on the the title for every product to link directly to them.
I categorized everything by price range, making it easier for your to scroll through if you're looking to spend within a specific budget. I've got you covered with beautiful things from low to luxe! I have also included any and all discount codes available to me, which will hopefully make spending money a little less painful!
All of the brands and companies I have chosen to share here are not affiliated to me, and I am not paid to promote their product. They are either products and companies that I shop from, or that I feel are worthy of sharing.
For the 20$-75$ range:
STFD Craft Co. personalized door mat
This little company is one of my favourite local discoveries of the year! We all know that I love anything customized and this STFD Craft Co. allows you to take it to your front door. You can customize a doormat in absolutely any way that you want, welcoming your guests in an even more inviting way. I may or may not have included these in my own gifting for this year! Sure to please absolutely anyone, because there's nothing like receiving something with a thoughtful personal touch!
Gabby's Favourite pack of Kanel Spices
It's no secret that I have a deep, deep love for Kanel spices. They are featured in many of my recipes as staple ingredients. So when they asked me to collaborate with them on a pack that would feature my favourites, I was thrilled!
This pack that I put together is what I call the perfect Kanel starter kit if you're looking to try them out for the first time. They range in flavours, making experimenting in the kitchen super fun!
What's better, is that instead of taking a commission from the sales of my pack, I chose to donate it back. In speaking with the ladies of Kanel, we came up with La Tablée des Chefs as the perfect organization to donate 5$ for the sale of every one of my favourites pack. It is a cause that aligns entirely with the values that I uphold and whose mission is to feed people in need and to develop culinary education for youth. What's better than giving a gift that also gives back?
If you're looking for another gift idea from Kanel, I suggest their absolutely beautiful Kanel Signature Collection gift set – beautifully presented with a delectable selection of spices!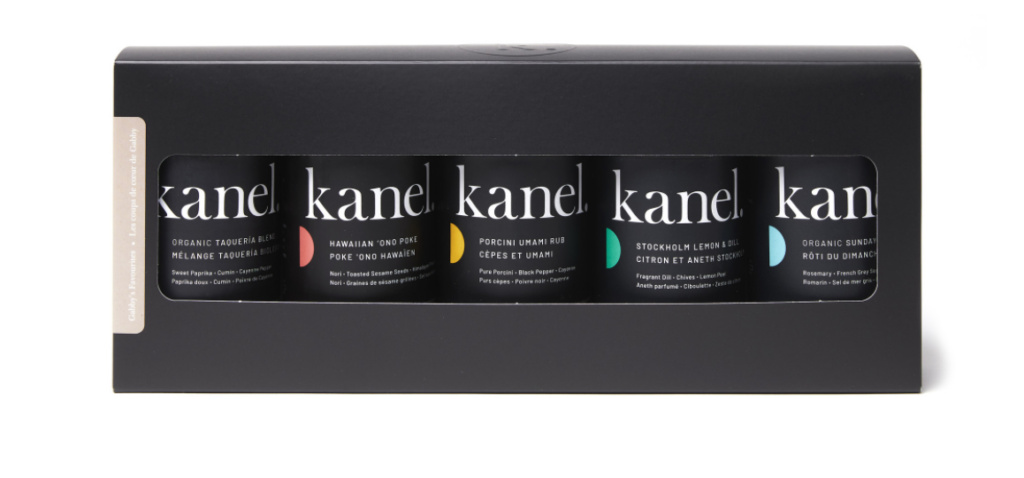 Coloré Home acrylic accent trays and vases
I have only recently discovered Coloré home, but have quickly come to love their vast line of acrylic home accent items. I use their trays to keep my coffee tables organized in a chic way, as well as a trinket box to hold our keys, change, and other miscellaneous items. Organizing with these is as chic as it is practical!
They have just launched their new acrylic bud vases and I absolutely adore them. The perfect complement to a powder room vignette, or even a nightstand or coffee table.
Planete E reusable food storage & produce bags
I have shared Planète E products in the past, after discovering them as part of a campaign I worked on, and they have since become staples in my kitchen and when I do my groceries. Planète E's product line offers low-waste alternatives to single-use plastic items.
Most particularly, I gravitate often towards the mesh produce bags and silicone lids, as I try to make a conscious effort to reduce my carbon footprint when it comes to cooking and shopping for food. Anyone who loves to shop the markets or food prep will absolutely appreciate a gift like this!
For 15% off, use code: GABPE15
Coffee table book from Maison Lipari
I find that coffee table books can be some of the most thoughtful and personal gifts you can give someone – it all has to do with the choice of book for the specific recipient. Many of you have seen that I collect both cookbooks and coffee table books, and the ones that I have received as gifts, are the ones that I value most.
Selecting a book for someone, depending on its theme, shows that you've thought about the person, their likes and interests, and maybe even their passions. Maison Lipari has a wide array of options for books, both in store and online. They make a perfectly collectible gift.
Violet Jay bath soaks & coffee scrubs
After all of the chaos leading up to the holidays, a little self-care and relaxation is well-deserved and necessary (specially this year, amirite?). Violet Jay is a wonderful local company that specializes in products that will allow just that.
Their coffee scrub is one of the best skin scrubs that I have tried. The owner, Kristina, hand-makes every batch, ensuring pure coffee perfection! I believe in her concept that when it comes to beauty products, less is more – all of the ingredients in her products are as clean as can be, plus they smell divine!
A perfect addition to the gift of a coffee scrub is a bath soak that ensures total peacefulness. They are made up of Dead Sea salt, Himalayan pink salt and essential oils. Who wouldn't want the gift of relaxation?
Le Chic Designs personalized cutting board
I have shared a few things that I either received from Le Chic Designs, or that I had made in the past, and in keeping with my love for anything personalized, I had to share one of my favourites.
Le Chic Designs offers a whole range of excellent gift ideas, but one of my favourites are the wood cutting boards. They can be customized in a range of ways and are a perfect gift as a display piece, or for the recipient to use in the kitchen as a serving board.
One of my go-to hostess gifts is some artisanal cheese (obviously), paired with a wood board like this one, and a set of cheese knives. You really cannot go wrong!
For the 75$-150$ range:
These definitely fall under the category of "things I cannot live without". I have probably gone through a half dozen pairs of these slippers, because I wear them out until they're completely finished. And now that I have been spending the majority of my time at home for the last eight months, they have singlehandedly been the pair of footwear that I have worn the most this year (sad, but true).
If you're looking to gift something warm, cozy and incredibly practical – these are it! They come in an array of colour options, models and styles and they are simply, the best! I cannot think of a single person who would not be happy to receive these as a gift; and since it's looking like we will be spending the better part of winter cozied in our homes, these couldn't be a more timely present!
If 2020 has taught us anything, it's that sometimes you just need a drink!… When it comes to preparing cocktails, why not do it in style? When I discovered these adorably stylish ice buckets, I fell instantly in love! I have one pictured below and plan to buy a nautical themed one to use for hosting on our boat next summer!
You all know that I love to add a touch of elegance to all that I do, and these are a stylish way to do just that. Whether to place on a small bar or bar cart, or to impress during a virtual 5à7, these make an impressive gift… specially for the cocktail lover!
Sometimes you want to gift a bottle of spirit, but want to add something with it – these buckets are perfect for that! In fact, you can even wrap it directly in the bucket as a basket. Now how's that for an idea? There are so many styles and designs to choose from, the only struggle you'll have is picking which one!
For 10% off, and valid through the holidays, use code: Gabby
Lothentique handsoap and cream set from Boutique Cassine
You have undoubtedly heard me mention many times how Boutique Cassine in the West Island is one of my favourite home decor shops in the city. That's mostly because they carry a range of products that span from furniture, to lighting, to wall art, to staging decor items.
I believe that home decorating goes all the way down to the little details, like the soaps you display, and how you display them. It really elevates the experience that your guests will have in your home. It's a small detail that can almost make it feel more "hotel-like". May sound silly, but these are the touches that I find make all the difference.
I absolutely love the Lothentique brand of soaps and body lotions. I actually have this exact set in every bathroom of my house, and display them in this luxe marble holder as well. I think this makes for a beautiful gift – the soap and cream smell fresh and delicious, and the marble holder ties it all together in a very chic way. Some people may not spend the money on luxurious soaps for themselves, but I am sure they would be elated to receive it as a gift!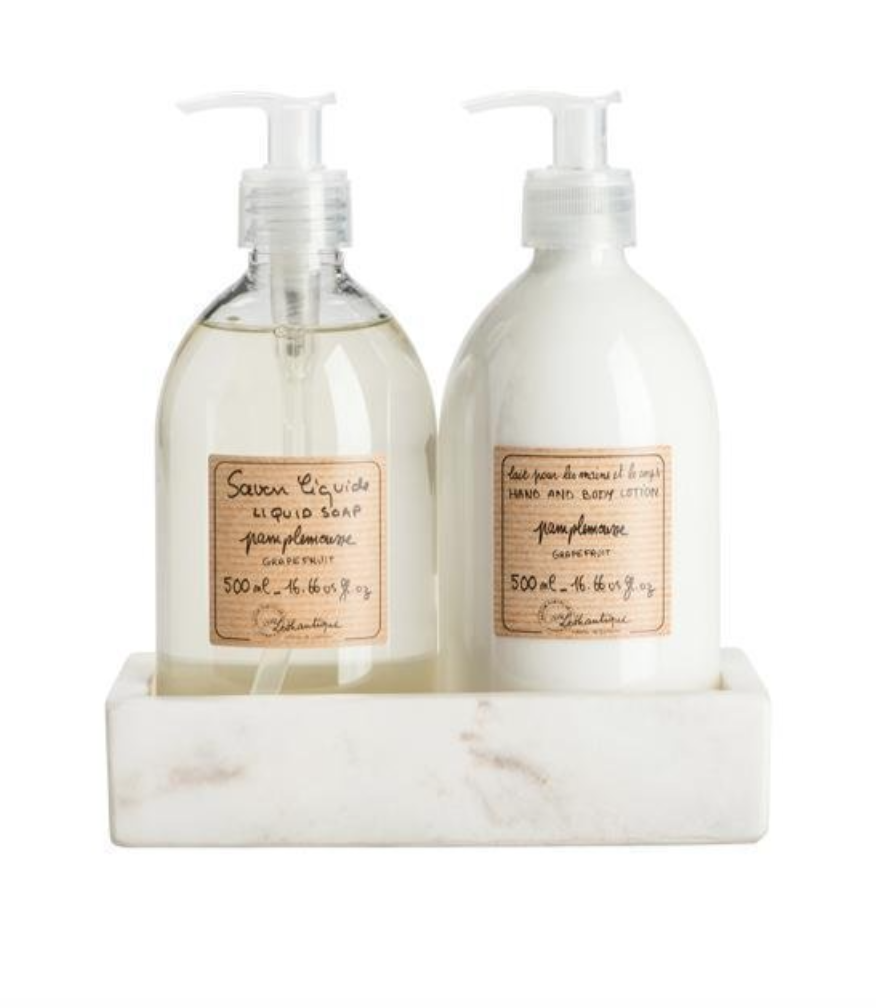 We all know how it goes: #CandleLitKitchenClosed… and this is just a really chic way to do it!
I discovered The Everlasting Candle Co. through Instagram and adored their concept from the get-go. They're a small business operating out of Alberta, Canada by a husband and wife duo. They created these Everlasting Candles as an eternal alternative to the traditional wax candle, that are finished ones the wax runs out.
I keep these on the coffee table in my family room, and they serve as a delicate decor piece, while also setting the mood once I dim my lights and am ready to relax.
These "candles" are unscented, smokeless and soot-free, creating a beautiful ambiance and gentle glow. The candlesticks themselves can burn forever, requiring only a refill on what they call the "Pristine Oil" when it runs out. It's the gift that keeps on giving!
Custom monogram Judith March slippers from Trend Savvy
I got to know about these slippers when they were sent to me as a gift from Trend Savvy and thought they were just the absolute cutest. You can't go wrong with gifting something personalized, and you really can't go wrong with gifting something cozy – making these the perfect gift!
These slippers are completely customizable and sure to please a teen as much as her mom. They are warm, super soft and abundantly plush! Give the gift of cozy with these funky slippers!
For a discount, use code: GABBY
Art by LJS Montreal iconic restaurant acrylic coaster set
Lindsay is a fantastic local artist from whom I have bought a few pieces in the past. Just in time for the holidays, she launched her collection of acrylic coasters, featuring her hand-drawn/painted takes on Montreal's most iconic restaurants and their most popular dishes. This set of coasters makes the ultimate gift for the foodie in your life. As a Montrealer and self-professed foodie myself, I think she hit the nail on the head with her selection of symbolic establishments.
What I love even more about these coasters is that a percentage of the sale from each set will be donated to the Montreal Restaurant Workers Relief Fund (@mtlrwrf), whose mission is to provide emergency economic relief to restaurant employees who are facing economic hardship due to COVID-19. It would be such a pity to see some of these restaurants close their doors for good! Seeing as restaurants make up a lot of out beautiful and iconic cultural scene in Montreal, I consider this a beautiful cause and a beautiful gift.
Aura Design Holiday Blooms Box
There's nothing I love more than setting a table. Truly, it relaxes me. However, that isn't the case for everyone. Aura Design takes the stress out of creating beautiful flower arrangements and floral decor with their genius Blooms Boxes. They come stocked FULL of beautiful winter evergreens and other items to help you bring a fresh element of holiday spirit to your home. They offer a few different styles of boxes, allowing you to pick the one that best suits your taste and home.
You can assemble the elements in a multitude of ways, allowing you to make maximum use out of the box. I've used it to make fresh wreaths. table decor, floral arrangements and even had some leftover to add a touch of spruce to my powder room! Even if there will only be a few people around your dinner table this holiday seasons, it should still be a reason to make it a pretty one! Buy this for yourself, or for a loved one – it's the perfect way to say "I wish we could celebrate together, but I am thinking of you!"
For 10% off, use code: Gabby10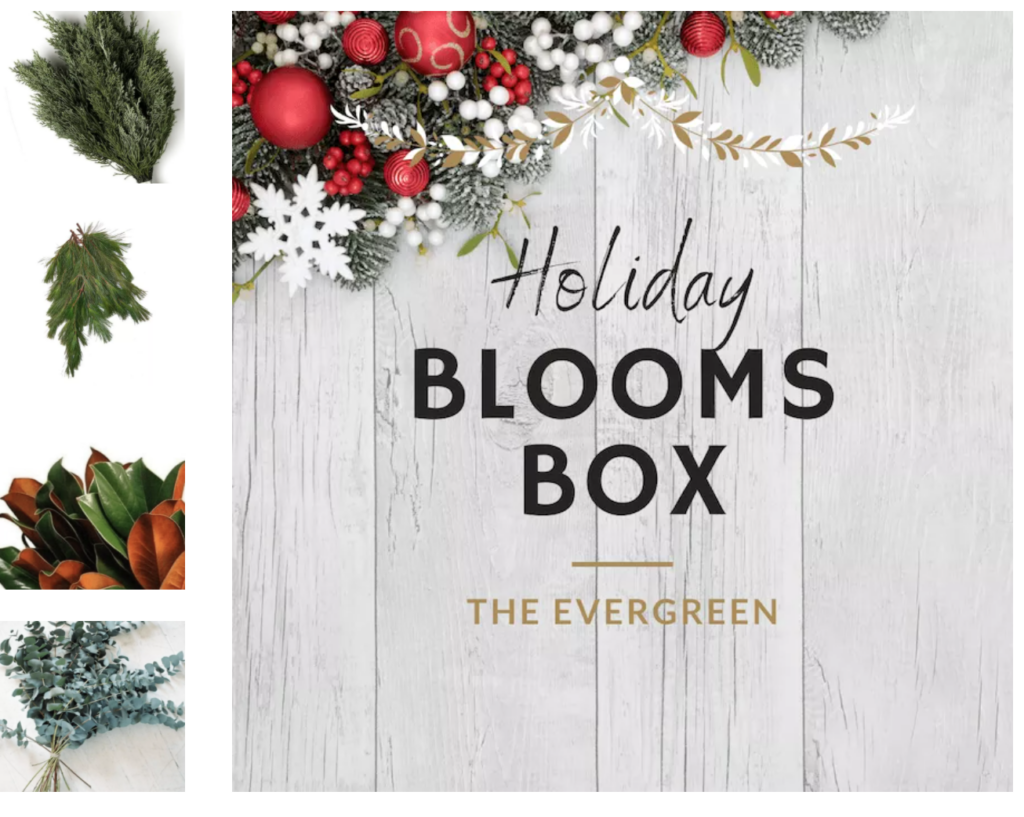 Silo Filo olive oil holiday gift set
I was sent one of these holiday sets last year and I found it to be the most awesome gift. Not only are the bottles absolutely gorgeous, but the olive oil is unbelievably delicious (and I am somewhat of an olive oil snob…).
This makes the perfect gift for the person who loves to cook, and knows good food. It's elegant to display on a counter and useful to pretty much everyone! As they say… I put that "sh!$" on everything!
If you're not sure what to get and how to present it, a pre-curated gift box will take all of the stress out of shopping for the perfect gift. Société offers a ample array of different boxes, allowing you to pick the perfect one for the person you are shopping for. From the foodie, to the fashionista, to the cocktail lover, and more, there's something for everyone. And did I mention how absolutely beautifully presented the boxes are themselves? One less thing to think about!
Oh… and my mom has her own curated "Chef Mom" box, featuring her cookbook – perfect for the lover of all things Italian cooking!
Just looking at these boxes relaxes me. Cordial Co. gift boxes are curated to be perfectly soothing. The owner sources distinctive goods throughout Canada, with a focus on small makers and artisan products- so when you purchase a gift box you are also supporting multiple small businesses. What's better than that?
If you're looking to gift relaxation in a box, this is it. The presentation is beautiful and the contents are high quality. The boxes are meticulously curated and I love everything this company stands for! I wouldn't mind receiving a little calmness like this (hint hint to anyone reading!).
For the 150$ and up range:
Julianna Isabella "Gabby" necklace
Other than my hair and skincare routine, one of the most common questions that I get asked is about the necklace that I wear every single day (I honestly have never taken it off). So much so, that Julianna, my friend and owner of Julianna Isabella Jewelry, has named it after me because of all of the orders she gets for "Gabby's necklace".
This was actually a gift to me from Franco for my 25th birthday, and it's one of my favourite gifts he has ever bought me! He had Jules engrave our initials on the back of it, and I find it to be the sweetest keepsake. It's dainty and delicate and sometimes I even forget I have it on!
Although this is one of my favourite pieces, I have also commissioned many other items from Julianna – she's my go-to jeweller! Her website offers an array of beautiful options ranging all price points. There's something for everyone!
For 15% off a purchase of the Gabby necklace, use code: GABBY15
Timeless Flower Design flower shadow box
I love flowers, there's no doubt about it. But I just wish they would last a little longer. In comes dried florals – and yes, we've all seen the eternal rose box. But in my opinion, it's becoming a little overdone. I discovered Timeless Flower Design through an Instagram friendship – she takes dried florals to the next level.
What I particularly love are her customizable flower shadow boxes. You can put a picture, a logo, a name, or any other graphic in the middle and it makes for the most beautiful, eternal flower present. Perfect for the flower lover to display in a home, office, or bedroom.
She also offers a wide range of other dry floral options for different budgets. And with the pampas grass trend all the rage right now, it's sure to make a winning gift!