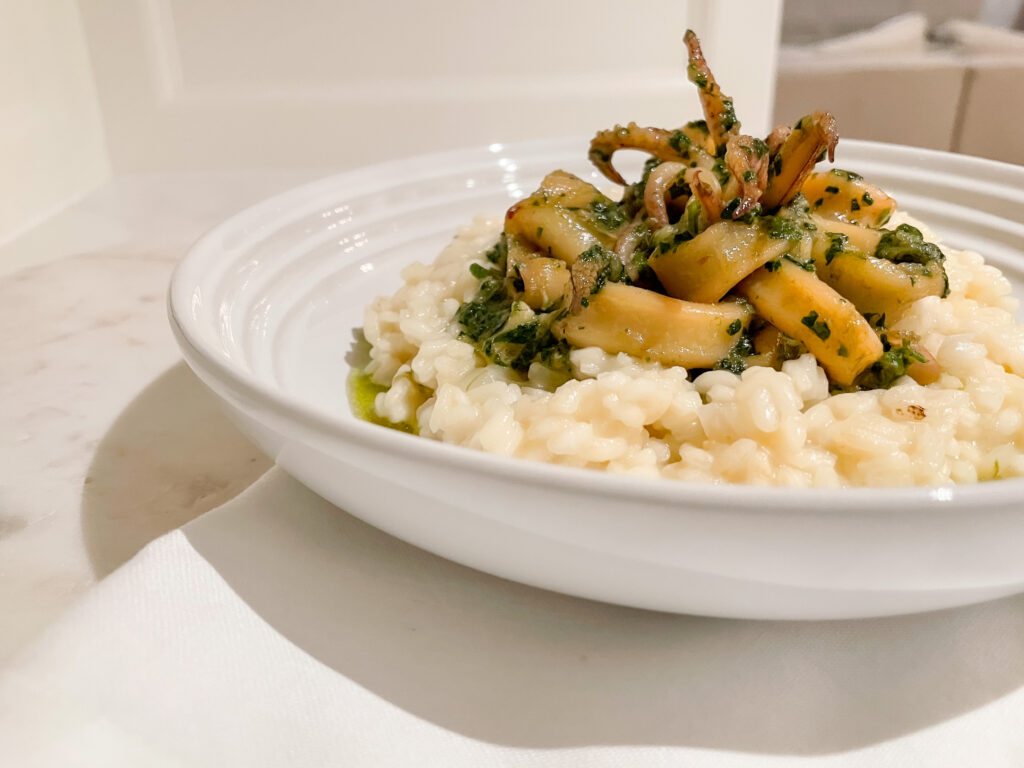 So drumroll for one of the most requested recipes on my Instagram…………………. I still can't believe the hype around this recipe since sharing it in my stories a few weeks ago. Yes it's absolutely delicious, and yes it is incredibly easy to put together, but wow! I was not expecting that kind of reaction.
It has taken me a while to actually sit down and type it out, but I am so happy to finally share it with you. This is definitely one of those recipes that is so incredibly dummy-proof, but that would wow even the biggest foodie.
"In umido" basically means "stewed" in Italian. By cooking these calamari low and slow, in some liquid, you are ensuring mind-blowing tenderness and deep, deep flavour.
I actually like to keep frozen, whole, clean calamari in my freezer for quick and easy access to a healthy meal. I buy them in bulk (about 4 lbs) from my favourite local fish monger, and I freeze them in pre-portioned vacuum packs. This makes meal planning easy, healthy, and efficient. Plus, I don't want to have to drive to the fish monger every time I want to cook a "fancy" seafood dish, because most times, I don't plan significantly ahead of time. This just makes my life a whole lot easier, while also knowing that I am using a top-quality fish.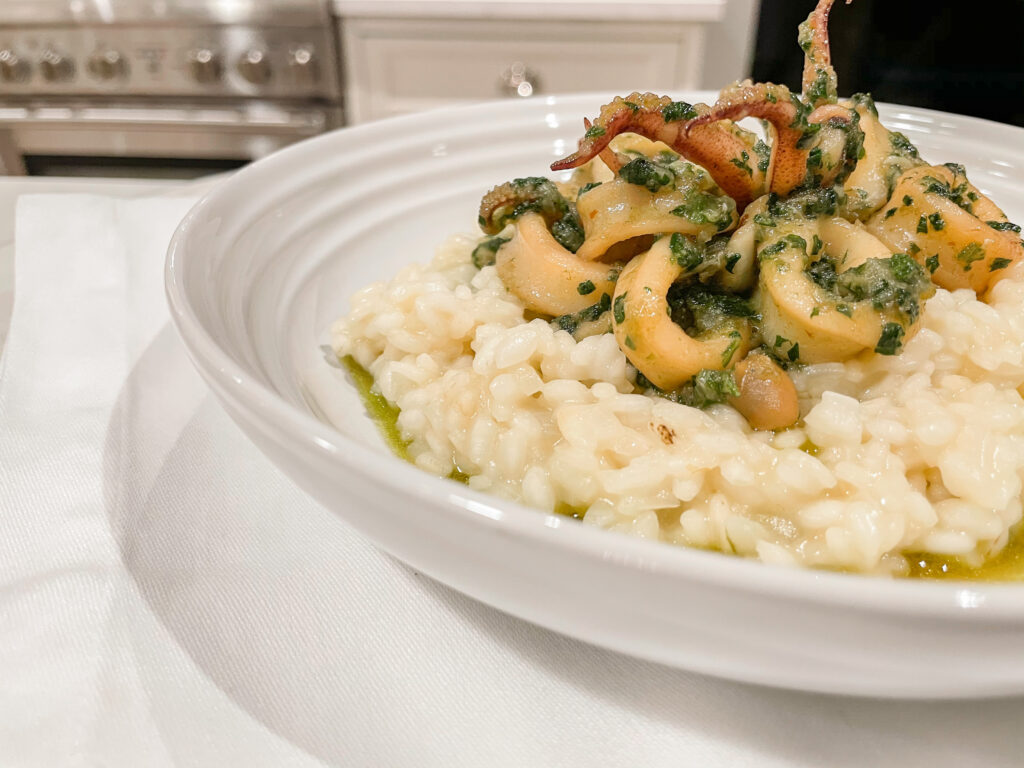 There are so many ways you can serve this (and I named a few in the recipe notes). But, my go-to is usually to place it on a bed of simple parmigiano risotto, letting the flavours from the sauce do the talking. It also pairs very well with some steamed rapini (broccoli rabe). Just ex-squid-site! Get it?… Okay time for me to log off now.
Be sure to tag @gabby.musacchio and hashtag #HomeWithGabby if you share try and share this recipe.
Enjoy! XX
Calamari in Umido
Ingredients
1/4

cup

extra virgin olive oil

6

shallots

chopped finely

5

cloves

garlic

smashed

1

tbsp

crushed chili flakes

(put less if you don't want it to be too spicy)

1/2

bunch

flat-leaf parsley

chopped finely (be generous)

salt & pepper

to taste

1

lb

calamari (squid)

cleaned, cut into rings (option to keep tentacles)

1

cup

water
Instructions
Heat up the olive oil in a heavy-bottom, medium sized pot.

Once heated, add in the chopped shallots and the smashed garlic – cook over medium-low heat until softened and fragrant.

Add in the crushed chili flakes and chopped parsley, stirring until coated. Cook until the parsley is wilted (about 2 mins).

Add in the calamari, tossing to coat in the oil mixture – cook until they become slightly opaque.

Add in the water, bring to a slight simmer. Lower the heat to low, cover the pot leaving a slight crack between the lid and the pot to allow the water to evaporate slowly.

Cook, stirring occasionally and being careful not to burn the bottom of the pot (this is why it's important to cook it low and slow – it will also yield very tender calamari). Cook until most of the water has evaporated and the sauce has thickened (roughly 35-40 mins).
Notes
You can serve this over a bed of risotto (I like to make either a plain parmigiano risotto, or a risotto with tomato sauce), or with some pasta aglio e olio, roasted potatoes, brown rice, on a salad, or even on its own. 
I get my calamari from my favourite local fish monger. I buy them frozen cleaned and whole. I pre-portion them in my freezer, defrosting them when needed. I then rinse them, cut them into rounds, always using the tentacles and allowing them to drain on a paper-towel lined dish before cooking.