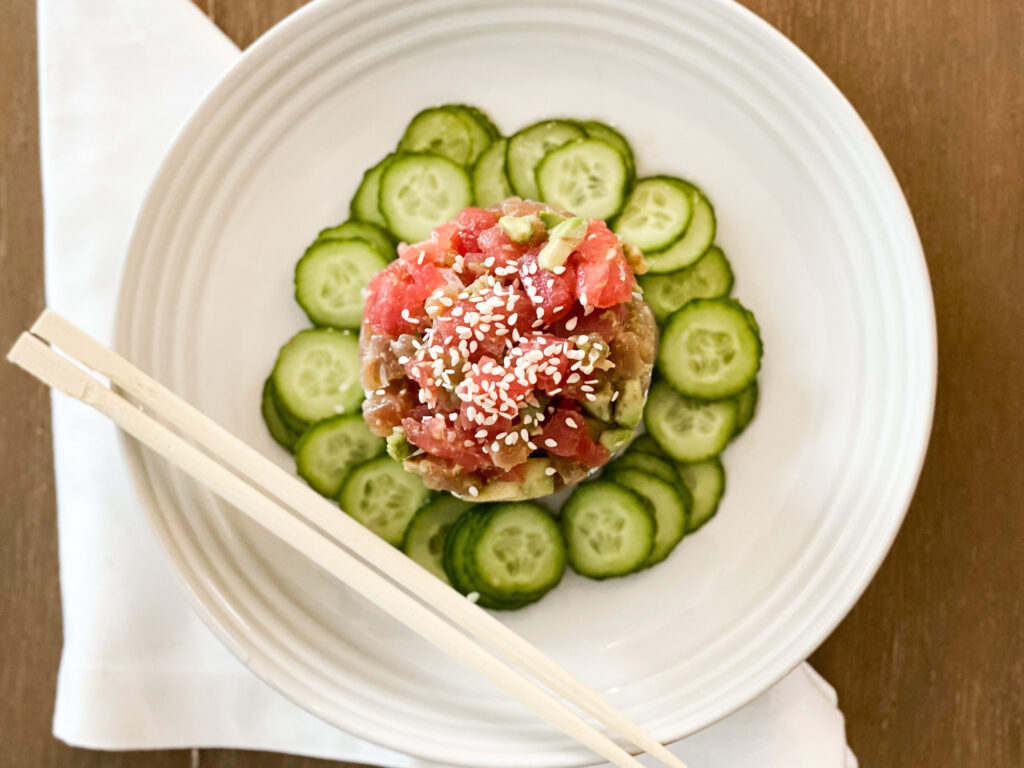 As many of you know now, from following me on Instagram in the last two weeks, I have jumped back onto the the Weight Watchers (WW) bandwagon. I actually joined WW about ten years ago and successfully lost nearly 35 pounds – it was fantastic and I felt the best I have ever felt.
Since this pandemic hit, like many others, it took a toll on my mental health. Which led me to neglect my physical health, in the way that I used to. Whether it was indulging more (blame it on being home all the time), working out less (hard to find motivation in your living room) – whatever the case, come this past fall, I just was not feeling like myself anymore. And frankly, for reasons of vanity, not recognizing myself in photos anymore either.
So I thought long and hard about what has worked for me in the past, in terms of weight loss and healthy living – cue WW. Let me just say that I don't think I am unhealthy and I am not looking to lose 100 pounds. I think like a lot of people, I am looking to shed that "quarantine fifteen" and just feel good in my skin again.
So I joined back WW on the green program, because it is the closest program to the one I knew and loved ten years ago. What I love about WW is that you can literally eat whatever you want, so you never feel deprived. It just teaches you about smarter choices and portion control, which is shocking when you put it into practice. It's a lifestyle you will likely maintain forever afterwards.
I also have a few friends that I knew were on the program, who invited me into their WW group text. I find this helps tremendously with keeping accountable and for getting new meal ideas. If you want to join, look into doing it with a friend; I promise it will make it infinitely easier.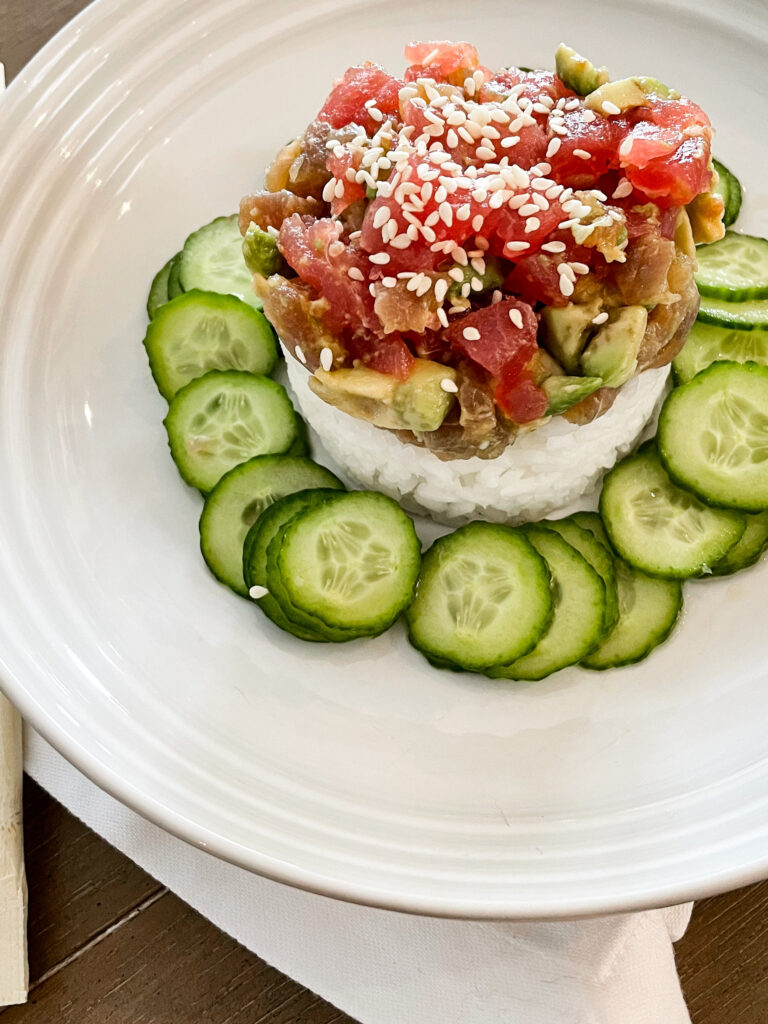 All this WW bla bla to say that I am trying to come up with recipes that are both WW friendly and tasty, so that I stay on track, but also keep my website fed with deliciousness (and keep Franco happy too!… He has absolutely LOVED every single meal so far).
So one night last week, I was craving tartare after seeing one of the girls in my group share something similar to this. I came up with this healthier tartare recipe and coupled it with my favourite Asian-inspired cucumber salad. It was a huge hit in this house and will be on constant repeat!
Melina (one of my best friends and recent HWG employee – she is now our brand coordinator and in charge of partnerships! How exciting!) tried this recipe and said it was also a huge hit with her family (kids included!).
For those interested, the tartare portion of this recipe is 6 points on the green program.
Be sure to tag @gabby.musacchio and hashtag #HomeWithGabby if you share try and share this recipe.
Enjoy! XX
Tuna Avocado Tartare (the healthier way)
Equipment
Tartare mould (not necessary, but very helpful for plating)
Ingredients
1/2

lime

juiced

2

tsp

sesame oil

1

tbsp

low-sodium soya sauce

1

tbsp

mayonnaise

(best to use Japanese mayo, if you have)

1/4

tsp

garlic powder

1/4

tsp

ginger powder

1/2

tsp

wasabi powder or sriracha sauce

(optional for a little kick)

2

scallions

very finely chopped

1

tbsp

sesame seeds

1

lb

raw, sushi grade tuna

cut into small cubes

1

avocado

cut into small cubes
Cucumber Side Salad
4

Lebanese cucumbers (or mini cucumbers)

sliced extremely thin (best to use a mandolin if your knife isn't sharp enough)

2

tbsp

rice wine vinegar

1

tsp

sesame oil
salt & pepper to taste

1

tsp

Kanel Hawaiian Ono Poke spice

(or just sesame seeds)
Instructions
In a medium bowl, whisk together all of the ingredients for the tartare, except for the tuna and the avocado.

Once mixed, add in the cubed tuna and toss to coat in the sauce evenly.

Add in the cubed avocado and gently mix, ensuring you're not mashing the avocado.

Set aside, in the fridge, until ready to assemble.

To assemble, use the tartare mould to stack each element. If you're using sushi rice, place it as the base in the mould, packing it in. Add a generous portion of the tuna mixture on top, patting down to make sure that everything is packed in. Remove the mould.
For the Cucumber Side Salad
Toss all the ingredients together in a medium-sized bowl. Set aside until ready to assemble.

Place the salad around the each tartare stack and serve.
Notes
The cucumber salad can be made ahead and kept in the fridge while soaking up the dressing. 
I prefer to use fresh sushi-grade tuna, which I get from my favourite local fish monger. You can also use frozen sushi-grade tuna, which is available in most grocery stores in the frozen area of the fish section. These frozen packs are very convenient to have on hand in your freezer, for nights when you're not sure what to cook, but want to keep it light and healthy. 
I serve this with sticky sushi rice. Most fish stores sell this rice. To cook it, I follow the instructions on the packaging, adding in a teaspoon of sugar and a tablespoon of rice wine vinegar once it is cooked and still hot. You can also serve this with crackers or on its own; it makes for a great appetizer when hosting, as well.