Photos by House of Stills
Every year I plan a themed birthday party. I have been doing this for as long a I can remember, and I think I took it over from the elaborate birthday parties that my mom always threw for me, since my very first birthday.
I always try to find a way to make my birthday celebration a fun day or night for my friends, by thinking outside the box. Some of the past themes that I have planned included: "Gabby Goes Greek" – fraternities vs. sororities, with planned drinking games, and custom team t-shirts; "Bro, me I'm 23" – a full Italian themed night, where everyone had to come dressed like some cliché Italian character and with an abundance of Italian food, a GIANT cannoli cake and an accordion player; "Camp Gabby" – which was a full afternoon of colour war games, custom coloured tank tops with a logo, relay games (see: drinking games), big inflatables, so on and so forth. I take a month to plan something that is fun and interactive, and most of my friends really get into the theme and look forward to discovering what I have up my sleeve every year.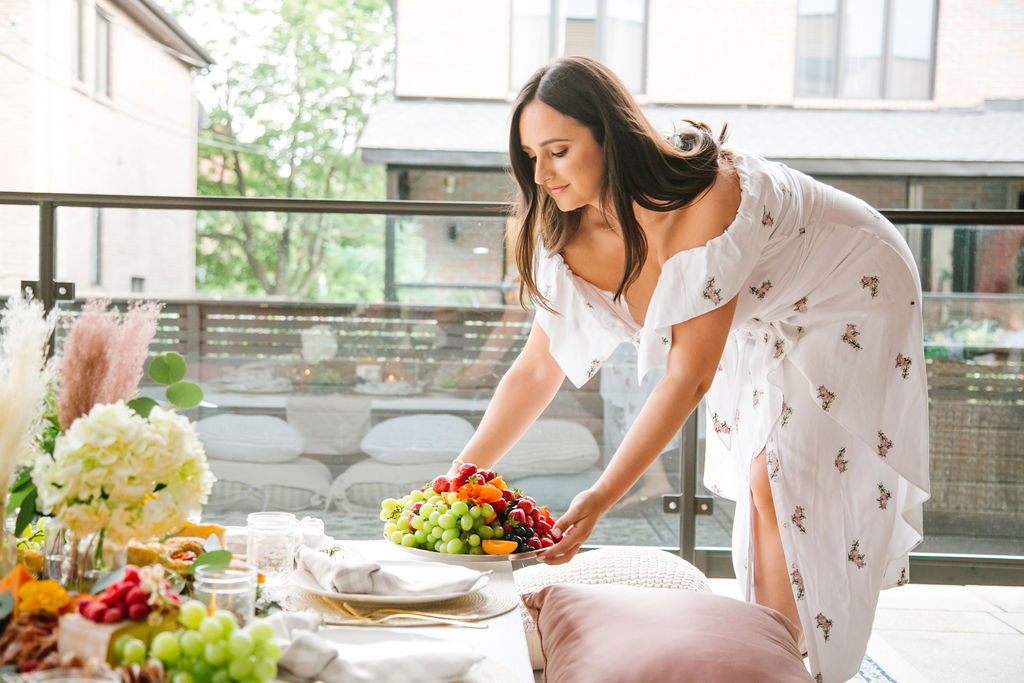 This year, however, proved to be challenging due of the Covid-19 restrictions in place. I couldn't invite the same amount of people that I generally would invite, and I had to keep it safer with less social interactions (so, no relay games, obviously…). I narrowed it down to my closest friends, and decided that I would go for a more low-key boho vibe.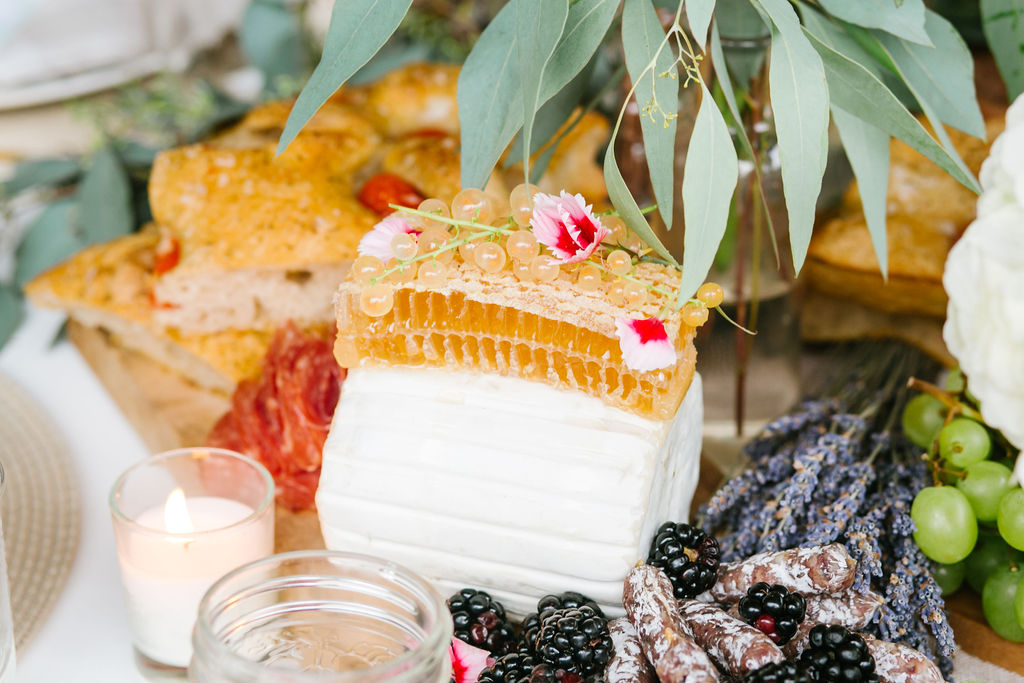 I have always admired Hanna from À La Table's work. She is an artist when it comes to putting together grazing tables, boards, boxes, you name it! I've followed her on Instagram for a long time, and always thought about ways that I could incorporate her work into one of my events. This birthday celebration was the perfect occasion to reach out to her and have her help me bring my vision to life.
The whole dinner was based on my idea of making one GIANT grazing table. I worked with Maria at Joe's Prop House to find the perfect rentals that would create a cozy, dreamy, boho atmosphere. I wanted comfortable carpeted floor seating with an opulence of plush pillows. Maria had absolutely everything to pull this together.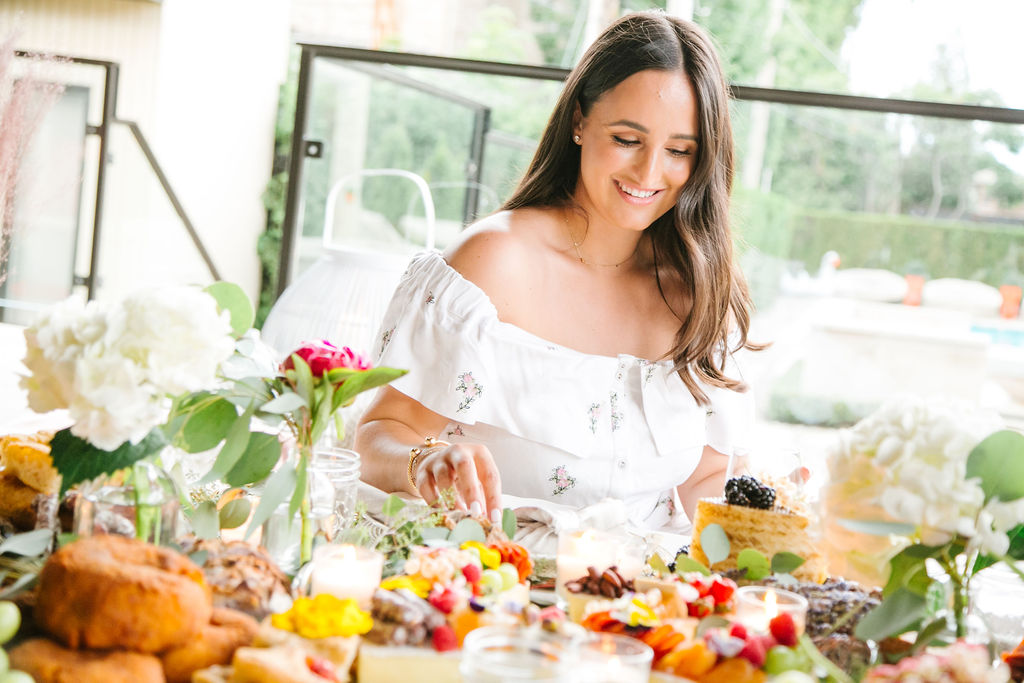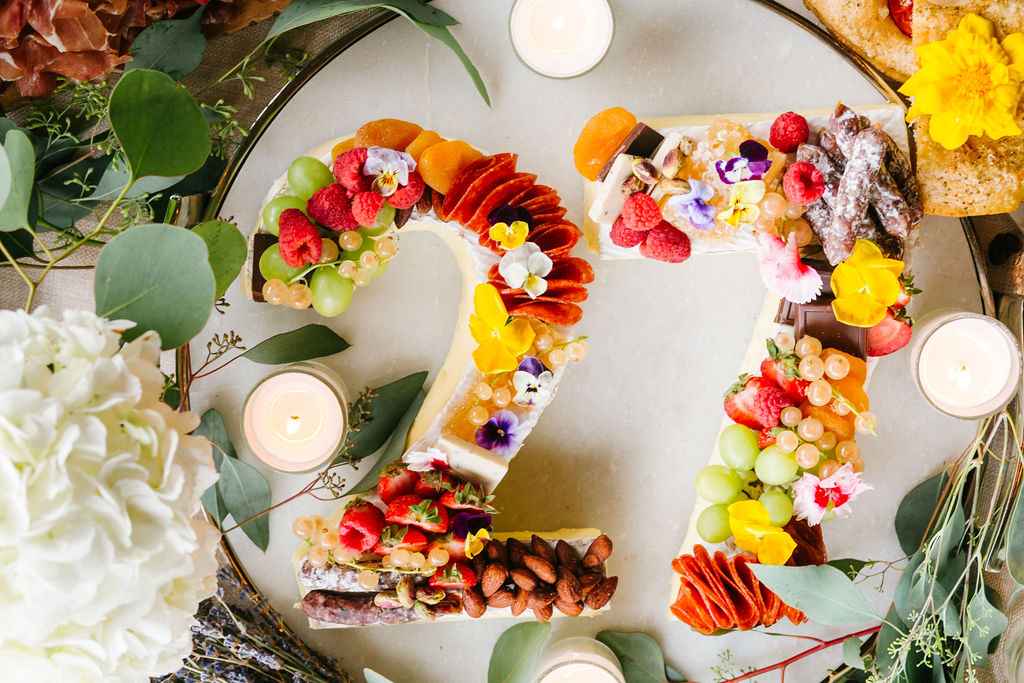 I had communicated with Hanna entirely over email, and sent her my inspiration, the list of rentals and she worked her magic to tie my tablescape to the food. She showed up with cheese to feed an army (and damn! Was it ever delicious), edible flowers, fruit, gooseberries, honeycomb (my fave!), and she even organized to have some other food items included in the grazing table from Giulietta Pizzeria (foccaccia to die for, arancini and more!). The best part was that she surprised me with a literal "cheese" cake – a 27 carved out of entirely of brie and topped with all kinds of things to nibble on with the cheese and it was seriously unbelievable. She has since made these available for purchase and I think they make the coolest birthday gifts, hostess gifts, you name it! Needless to say, we were well-fed and the table was absolutely gorgeous!
I worked with Jenn at Lafrenaie Montreal Ouest to make my cake (which I unfortunately forgot to photograph), and she made the most beautiful, delicate floral masterpiece. She is my forever go-to for cakes. There's nothing she can't do, and she does it with the biggest smile. She is one of the sweetest human beings I know!
I like to have my friends leave my parties with a loot-bag (yes, like at a child's birthday party), but in a more adult way. No one leaves my gatherings empty-handed. Because my birthday is in June, hot weather is never guaranteed. So, I ordered beautiful round floral beach towels with a cute fringe from Le Chic Designs, that I had monogrammed for everyone. It was perfect – they used them to keep wrapped and warm after the sun set and then continued to use them for picnics all through this strange Covid summer!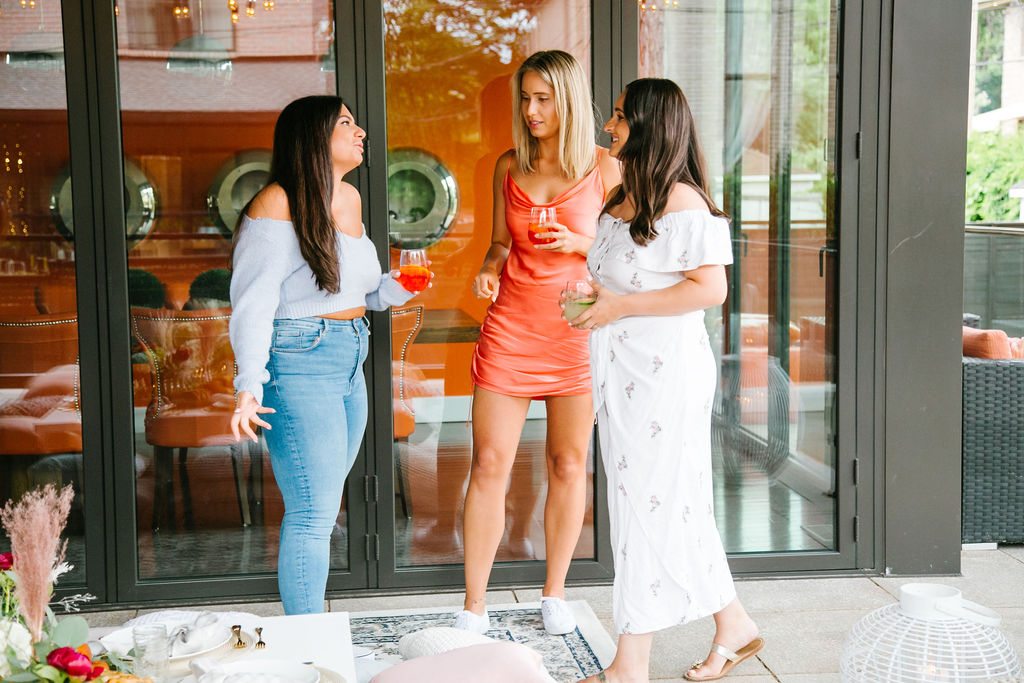 This theme seemed to have exploded afterwards, sweeping the city for the rest of the summer, as everyone started planning picnics and smaller home gatherings. It was fun to see how popular it became throughout the summer, and how everyone had a different take on this boho-chic look. The success of it, though, is all in the details.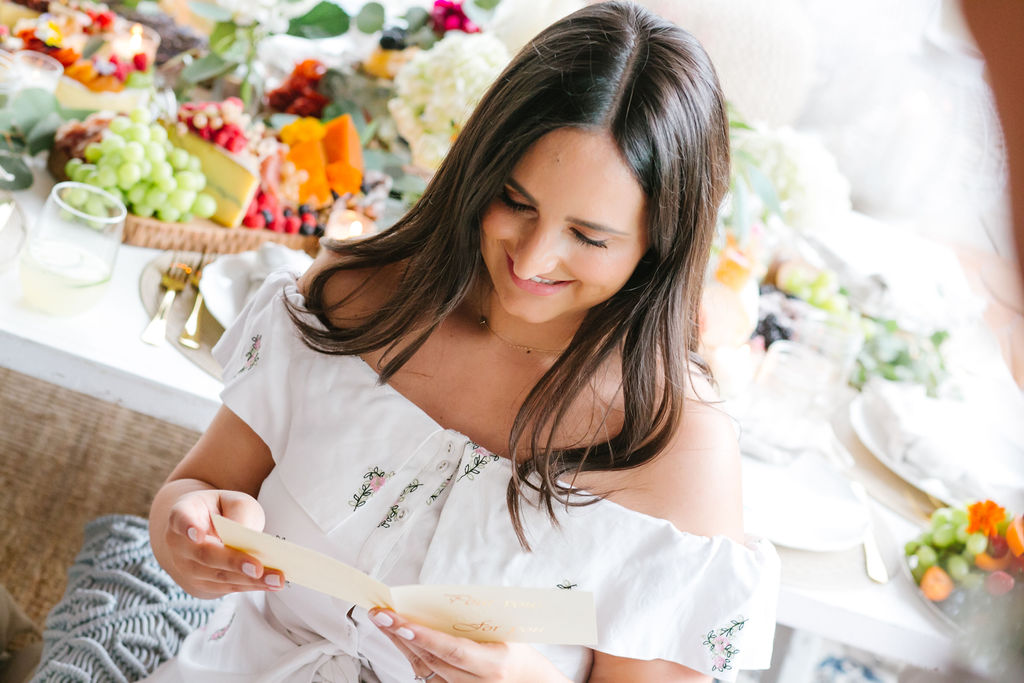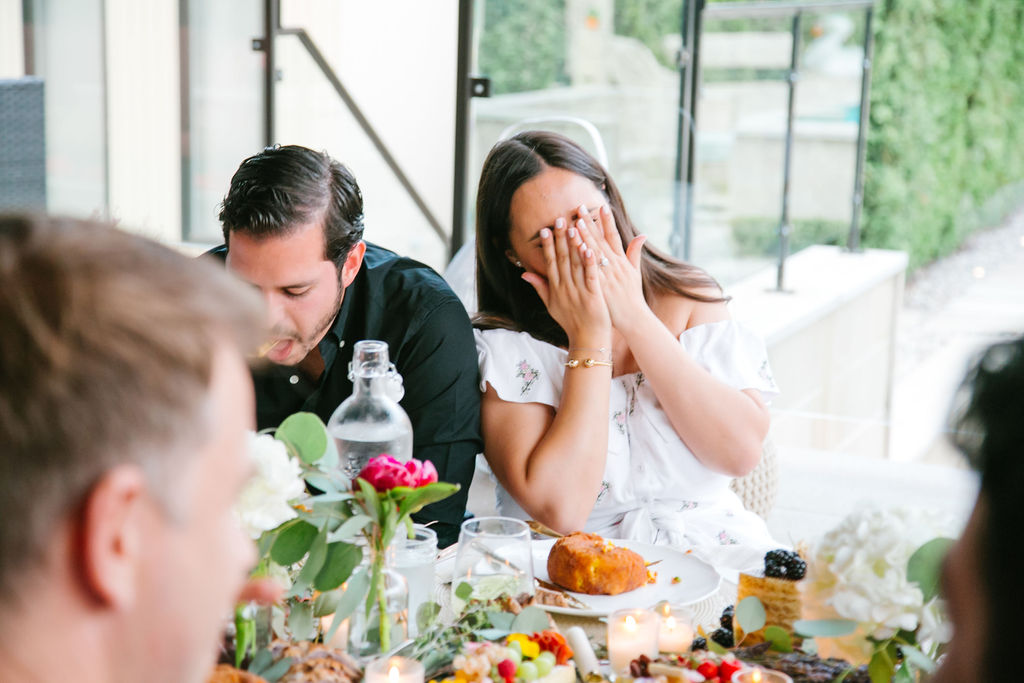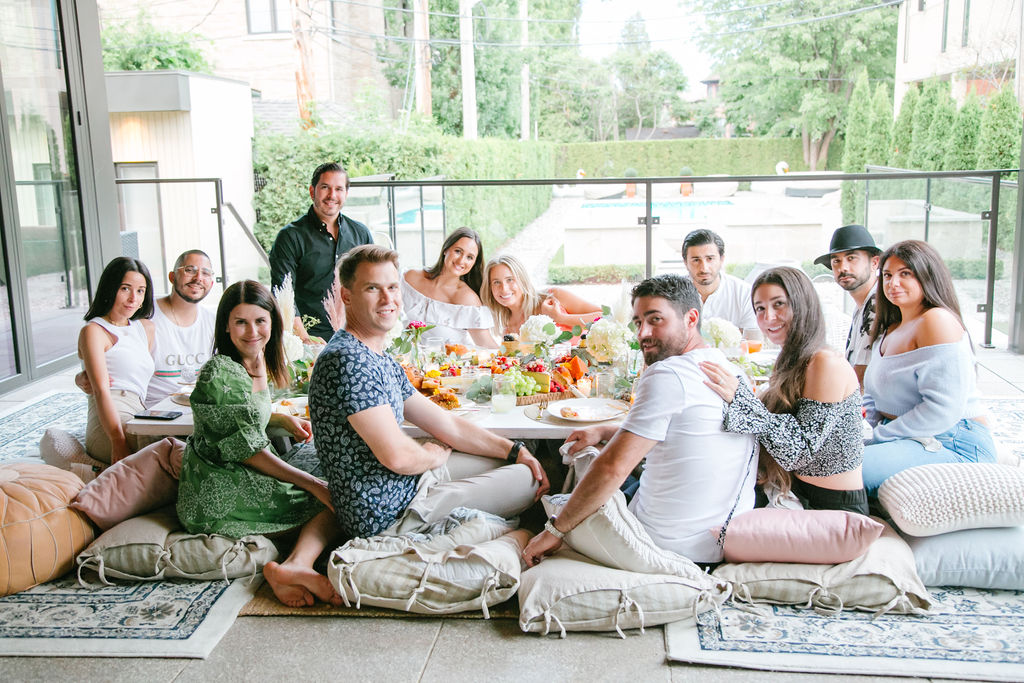 Keeping my guest count down allowed me to hone in on the small details with much more attention, which made the whole evening a beautifully intimate celebration. Although it was not my usual rambunctious summer birthday party, this was undoubtedly one of my most favourite birthday celebrations of all time. There really is just something about keeping it to your closest friends, and having a genuine good time over great food and even better laughs! I just want another excuse to put this all together again. It was perfect! XX