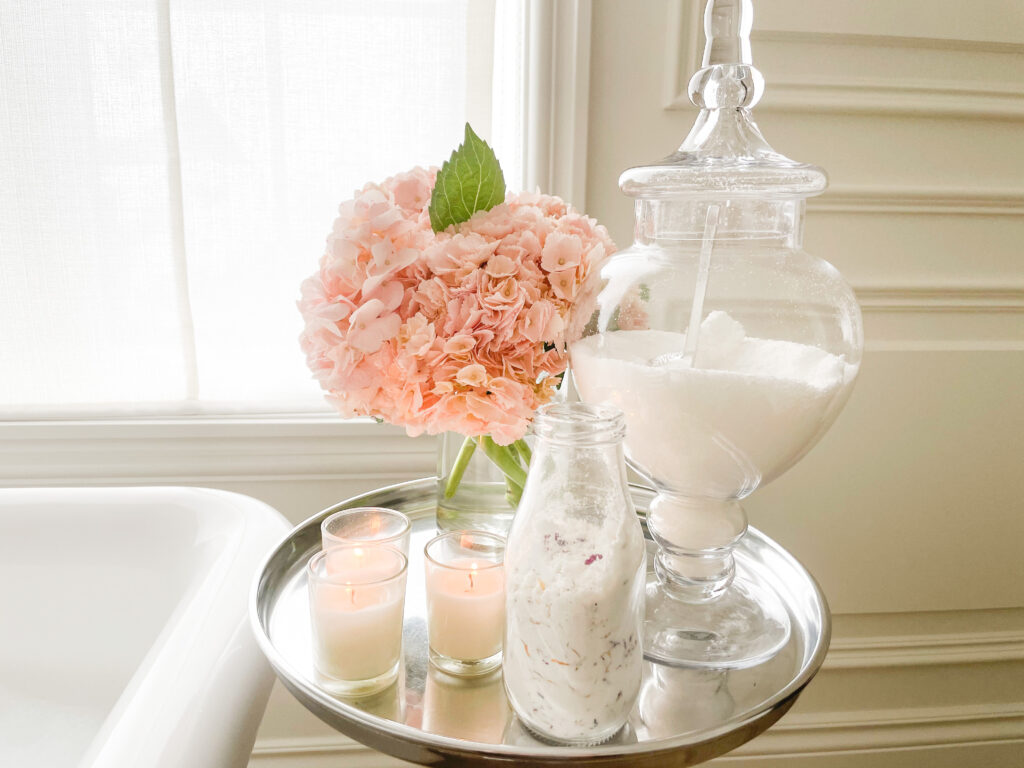 As far back as I could remember, my mom used to always add Burt's Bees Baby Bees Buttermilk Bath Soak to our baths. It had the most beautiful smell, and always made our skin incredibly soft. This is the main inspiration behind this DIY coconut milk bath soak.
They have long since discontinued this product (although I can't understand why; it was really the best). So, for a long time, I was on the hunt for something similar. That's when I discovered the Herbivore Coconut Milk Bath Soak. It offered all the same properties as the Burt's Bees milk soak, but with a different, albeit incredibly delicious scent. I was instantly hooked.
Let me start by giving you a little backstory on the history of bath soaks. It is no secret that Cleopatra was well-known for her striking beauty and radiant skin. Legend has it that she had a daily ritual of bathing in milk. Why though, was milk the secret ingredient to her skincare and glowing complexion? Well, milk contains lactic acid, which is an alpha-hydroxy-acid (AHA – ring a bell?). Surely you've heard about it as it has been all the rage in skincare for years for its natural exfoliating power. This leaves the skin feeling silky smooth – who wouldn't want that? Cleopatra also apparently mixed in different ingredients for the aromatherapeutic benefits; boy was she ahead of her time.
Fast forward to today, there is a cult-love for the Herbivore coconut milk soak. Rightfully so – it smells so delicious that you'd be inclined to eat it, and leaves your skin feeling fabulous after a good soak. BUT, it isn't cheap, nor is it super easy to find (I used to buy it at my local Indigo, but they've since stopped carrying it). So when I discovered a (very VERY easy) way to make it myself, and for a fraction of the price, I felt compelled to share it with you! (Will cost you about 12$ a bottle).
So, in the spirit of good self-care and a little added time on my hands thanks to a global pandemic, I got to work on testing a recipe out. Just like Cleo, I added dried florals with soothing properties to this soak (although you can easily forgo these entirely and just use the powdered milk). I will describe which ones and what they do shortly. But unlike Cleo, I didn't use donkey milk. Instead, I opted to try and dupe the Herbivore soak and use coconut milk powder. However, this recipe can easily be made with whole milk powder or goat's milk powder – both of which I have also tried and loved. It's really a preference and even a scent thing.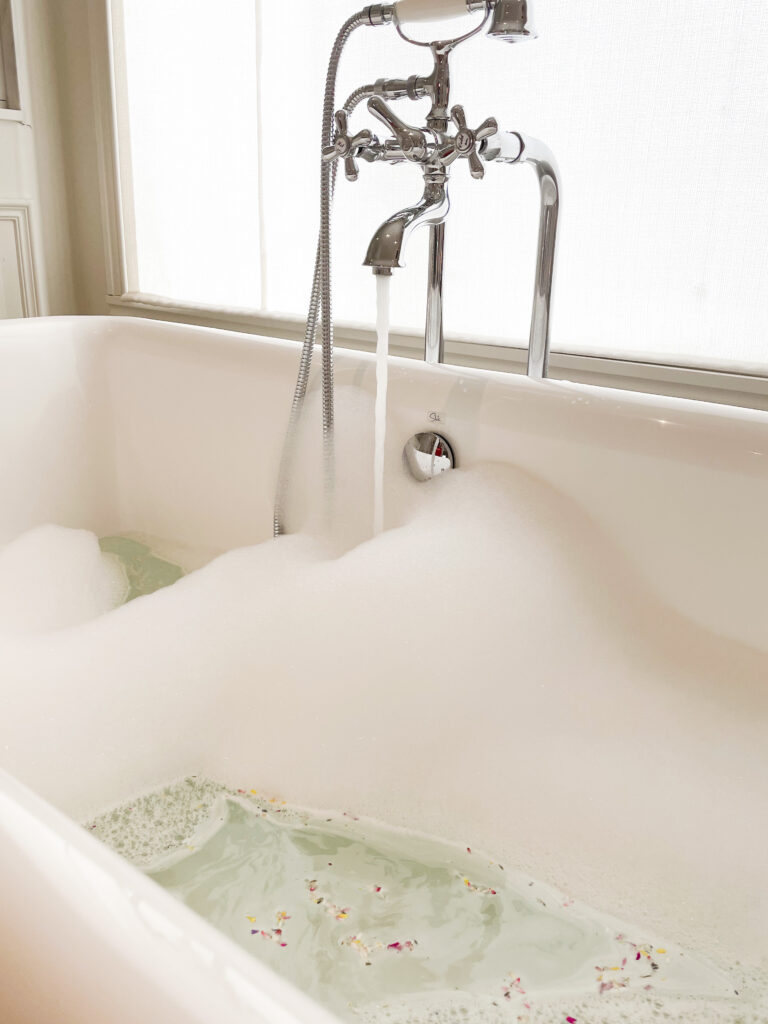 The whole recipe for this DIY coconut milk bath soak is only comprised of two ingredients: milk powder and dried florals. That's it. It's as easy as combining the two and you will have the PERFECT, and I mean PERFECT soothing bath.
I used dried rose petals, dried calendula petals, and dried lavender.The rose petals provide an added element of antioxidant, relaxation, moisturizing and antibacterial properties. The calendula has healing and pain relief properties, as well as being a soothing antioxidant. And finally, the lavender, as most know, promotes rest and relaxation, making it the perfect addition to a nighttime bath for a more restful sleep.
All of the ingredients used to make this can be found on my Amazon store under "DIY & Crafts" – I linked it here and in the notes for the recipe. If you want a step-by-step visual of how to make this, check out my reels on Instagram!
This is probably one of my favourite DIYs to date. Use it generously to soak in the goodness and let me know what you think!
Have fun! XX
Be sure to tag @gabby.musacchio and hashtag #HomeWithGabby if you try and share this DIY project.
DIY Coconut Milk Floral Bath Soak
Equipment
Mortar & pestle

Mason jar or airtight container for storing
Materials
1/4

cup

dried lavender

(see notes for link)

1/4

cup

dried calendula petals

(see notes for link)

1/4

cup

dried rose petals

(see notes for link)

2

cups

coconut milk powder

(or whole milk, or goat's milk powder – see notes for link)
Instructions
Place all of the dried florals into a mortar & pestle and grind them to release the aromatics. This will also break them up, rendering them fine enough to drain in your tub.

Place the dried coconut milk powder into a bowl and mix in the dried florals until properly combined.

Bottle or jar into an airtight container (keeps well for a few months).

Use generously in your warm bath.
Notes
All products used for this DIY can be found on my Amazon store, click here.