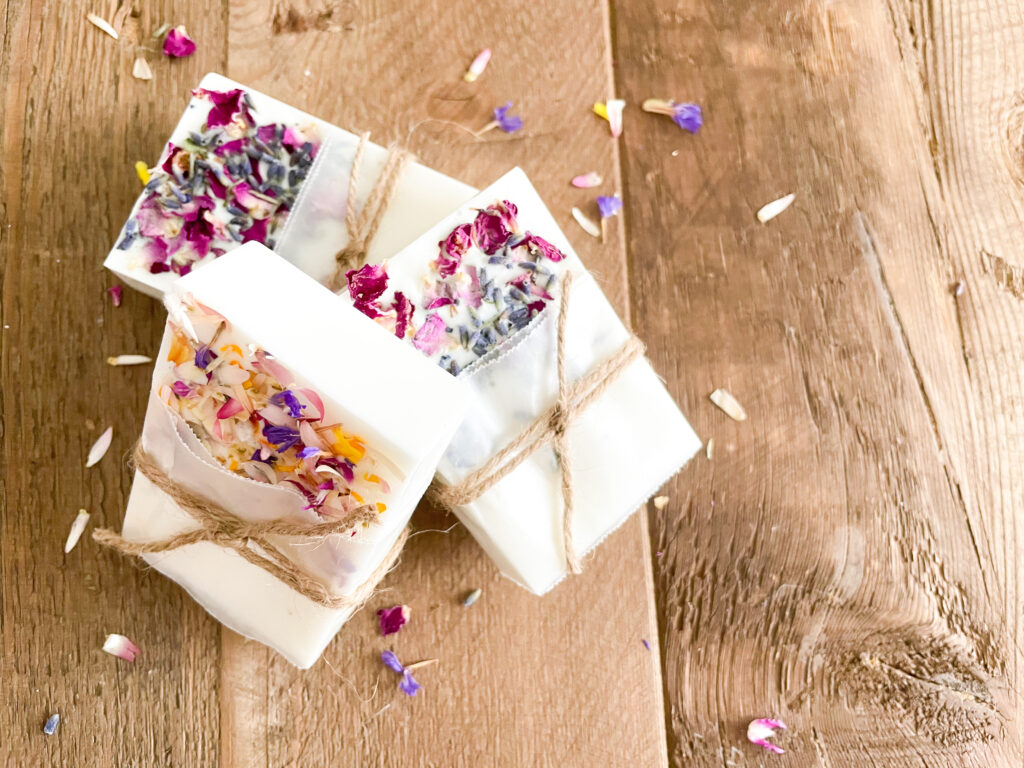 The easiest and most beautiful DIY to date! This DIY soap bar project requires minimal effort and equipment, and yields an incredible end-result. I like to make these soap bars as a hostess gift (I wrap them very simply, but beautifully with some wax paper and kitchen twine – see photo). They're also super fun to make with kids – Melina can attest to this!
Make them your own by exploring various mixtures of scents, using your favourite essential oils. Alternatively, you can also make these scent-free, by omitting the inclusion of essential oils altogether. My absolute favourite combination for a soothing and refreshing bathroom scent is bergamot, lavender and eucalyptus. I find the citrus scent of bergamot brings out the freshness, while the lavender and eucalyptus provide soothing tones. Together, they create a scent that leaves you feeling clean and relaxed.
You can make these soap bars with a variety of soap bases. I have done it with shea, goat's milk and olive oil bases. All yielded the same beautiful lathering result, but with different properties. I like to mix up the flowers that I use to create beautiful pops of colour. The dried florals also make for a natural exfoliant when using the soap bars – a wonderful added bonus!
You can either make them into classic soap bars using a rectangular mould, or you can be more more playful, using silicone moulds in different shapes, such as hearts, clouds, and so on. This makes for a really fun project with kids. You can even add some colouring for added excitement, using Mica colourant powders (linked below).
Everything used to create these soaps can be found in my Amazon store, under my DIY/Craft category, which I have linked here and in the notes of the instructions. If you want a step-by-step visual of how to make these, check out my reel on Instagram!
Have fun! XX
Be sure to tag @gabby.musacchio and hashtag #HomeWithGabby if you share try and share this DIY project.
DIY Floral Soap Bars
Materials
1

silicone soap mold

(see notes for link)

2

lbs

melting soap base

(see notes for link)

20-30

drops

essential oil of your choosing

(I like bergamot, lavender and eucalyptus)

Dried flowers of your choosing

(see notes for link)
Instructions
Melt the soap base in the microwave or on a double-boiler until liquid. I like to do this in the microwave, using a microwave-safe glass bowl. I melt in 20-second spurts, stirring in between.

Once melted, transfer to a vessel in which it will be easier to pour into the mould. I use a measuring cup with a spout.

Add in the essential oil and stir to combine evenly.

Pour into the silicone mould. I like to do this 3 bars at a time, so that they don't start to harden on the surface before I have had time to add the flowers. You want the flowers to seep into the soap slightly, so that they don't fall off once the soap is hardened.

Add the decorative dried florals however you like, to decorate the top surface of the soap.

Leave it to harden for at least two hours.

Once hardened, pop them out of the mould and they will be ready to use.
Notes
I strongly suggest using the silicone moulds, as this is what allows the soap to pop right out, once hardened, with very minimal effort.
Feel free to play around with different essential oil scents to really customize the soap to your taste. You can also omit this altogether, if you want scent-free soap. 
I suggest using the petals of dried flowers only, as they are less heavy and wont sink into the bars, but rather float beautifully on the top. 
Click to shop: 
All products used for this DIY can be found on my Amazon store, click here.