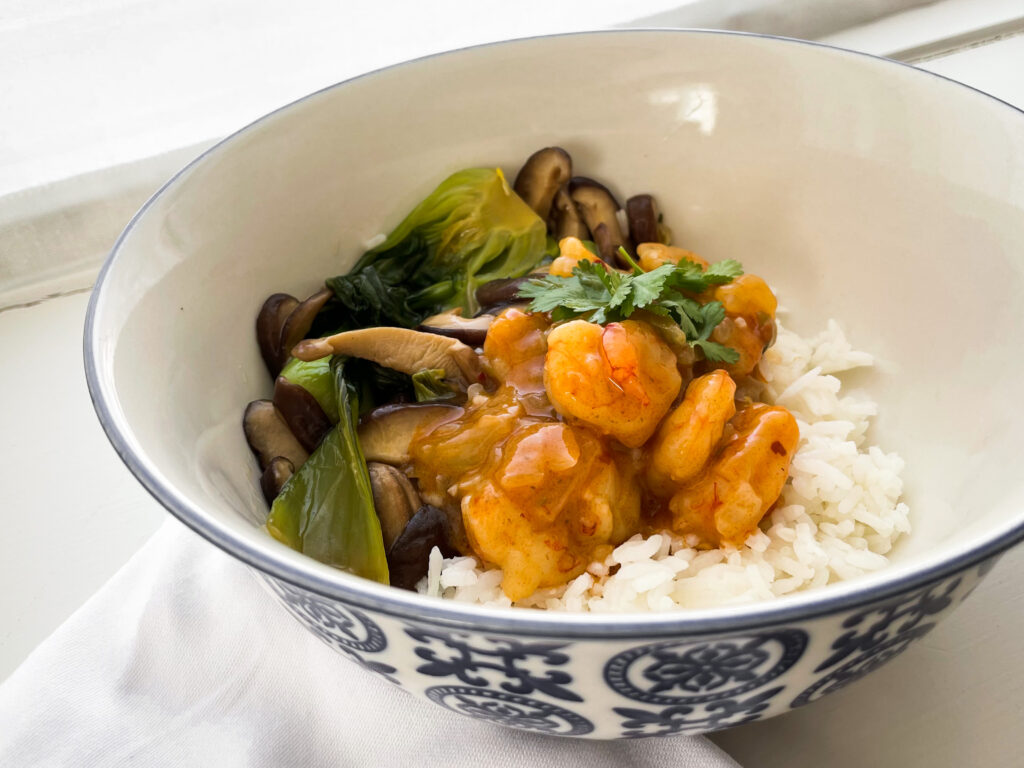 Since I am constantly testing new recipes in the kitchen, it really takes a lot to WOW me with a dish I put together. I know that most of what I make is usually delicious, because I have an in-house taste-tester (ahem – Franco). But when that same taste-tester requests a meal twice in the same week, then I really know it's a home-run. And honestly, this coconut red curry shrimp recipe blew me away too – with its simplicity and deep, deep flavour, it's a definite winner.
I have become obsessed with Thai red curry over the past few months. I find myself playing around with it for a multitude of dishes, wanting it to work with virtually everything. It doesn't always work out, but in this case it did!
If you're a fan on my Thai coconut red curry soup, then this coconut red curry shrimp recipe should definitely be on your must-make list! I like to serve this bowl-style (shocker, I know). I steam up some jasmine rice, sauté some bokchoy and shiitake mushrooms and throw it all together into a bowl. Every element compliments each other in the most delicious way!
For those interested, this recipe is 7 points on the Weight Watchers green program (excluding the rice and sautéed veggies).
Be sure to tag @gabby.musacchio and hashtag #HomeWithGabby if you try and share this recipe.
Enjoy! XX
Coconut Red Curry Shrimp
Ingredients
1

tbsp

olive oil

1

sweet onion chopped

2

jalapeños seeded chopped

3

tbsp

Thai red curry paste

2

tbsp

brown sugar packed

2

tbsp

fish sauce

1

can

light coconut milk (option to use full fat)

t

tbsp

cornstarch

1

tbsp

water

1

lb

shrimp peeled and deveined
Instructions
Heat up the olive oil in a heavy bottom pan.

Cook the chopped onion over medium heat, until softened.

Add in the chopped jalapeños and cook until softened.

Add in the red curry paste and let cook on medium heat, allowing the flavour to deepen.

Add in the brown sugar, fish sauce and coconut milk – stir to combine. Allow to simmer for about 5 mins.

In a small bowl, mix the corn starch in the water until diluted and add to the sauce.

Bring the whole to a bubble, keep simmering until thickened.

Add in the shrimp, toss to coat and cover the pan. Let cook for roughly 5 mins, or until the shrimp is cooked through.
Notes
I like to serve this with some steamed jasmine rice and sautéed bok choy and shiitake mushrooms.