Photos by House of Stills
It's no secret that I love a good themed dinner party. I am constantly scouring Homesense to find a deal on serveware, linens, dishes and more, that will inspire me to bring a theme to life. And if it involves lemons, even better.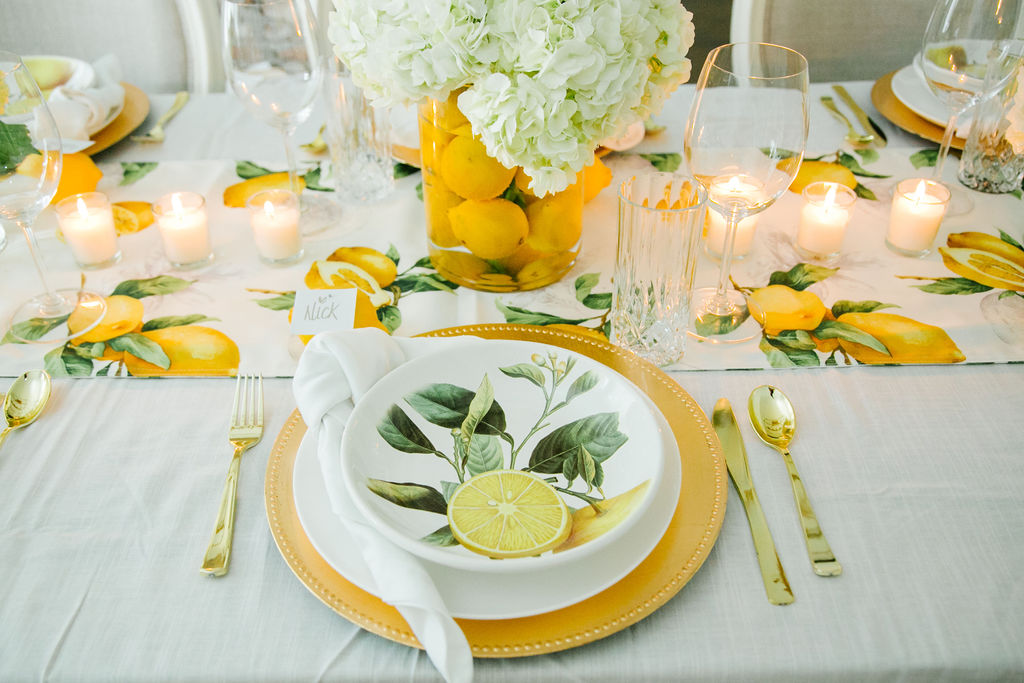 My absolute favourite place on this planet is Capri, on Italy's Amalfi Coast. I have spent most of my summers there since I am a young kid, and I feel that it has become a second home to me. It is also home to some of the most beautiful lemon groves. Much of the cuisine in Capri is inspired by the abundance of lemons and so is a lot of the decor that you discover while waltzing around the small streets and piazettas.
Needless to say, I have a penchant for all things lemons! So when I stumble upon decorative elements of the sort, there's not much hesitation for me to buy it. I have a solid collection of lemon placemats, table cloths, dishware, decorative elements, napkins and more. Every time I pull them out, I create a different lemon-themed table. It's definitely one of my favourite summer table settings, almost as much as anything floral-inspired!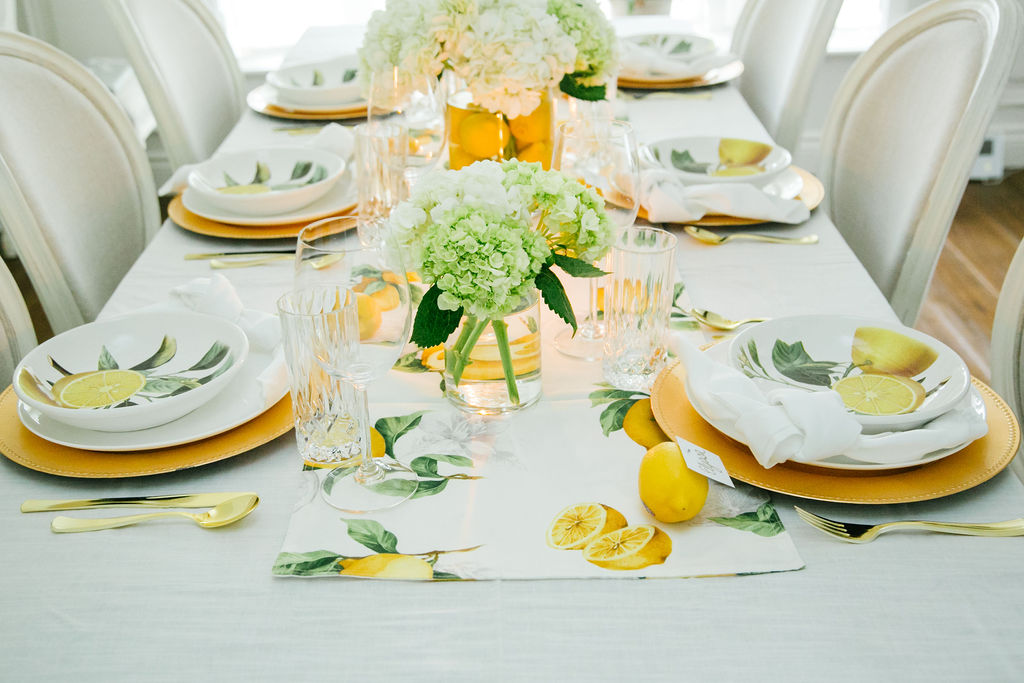 You don't need to have lemon dishes to successfully pull off a lemon theme, though. You can be inspired by the colour yellow, picking up yellow napkins or simply use real lemons to create centrepieces that will pull together the whole theme. Even something as simple as a runner with a lemon print, is sufficient enough as a base for the entire theme. Use a real lemon as a place card holder and pin a tag with the person's name, and just there you have a simple, yet elevated place setting. You don't have to go lemon-crazy and purchase a whole set for a theme you may only use once in a while!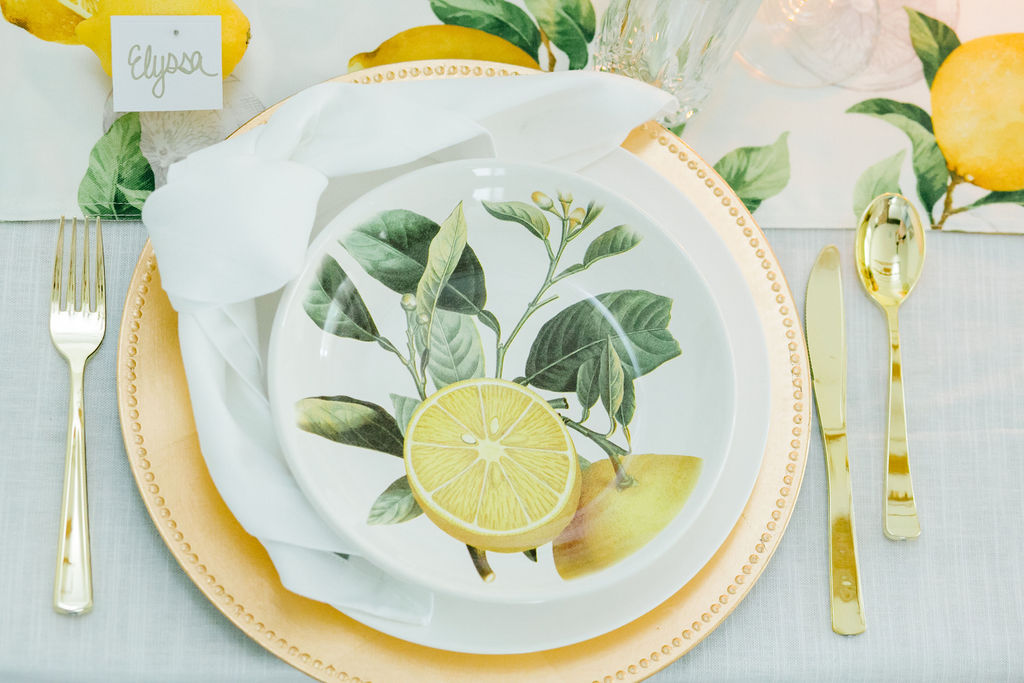 I recently purchased amazing gold cutlery on amazon and paired that with my gold charger plates, and tied the whole thing together. Sometimes just changing up your usual cutlery is an easy way to elevate your usual dinner table. You can shop them here.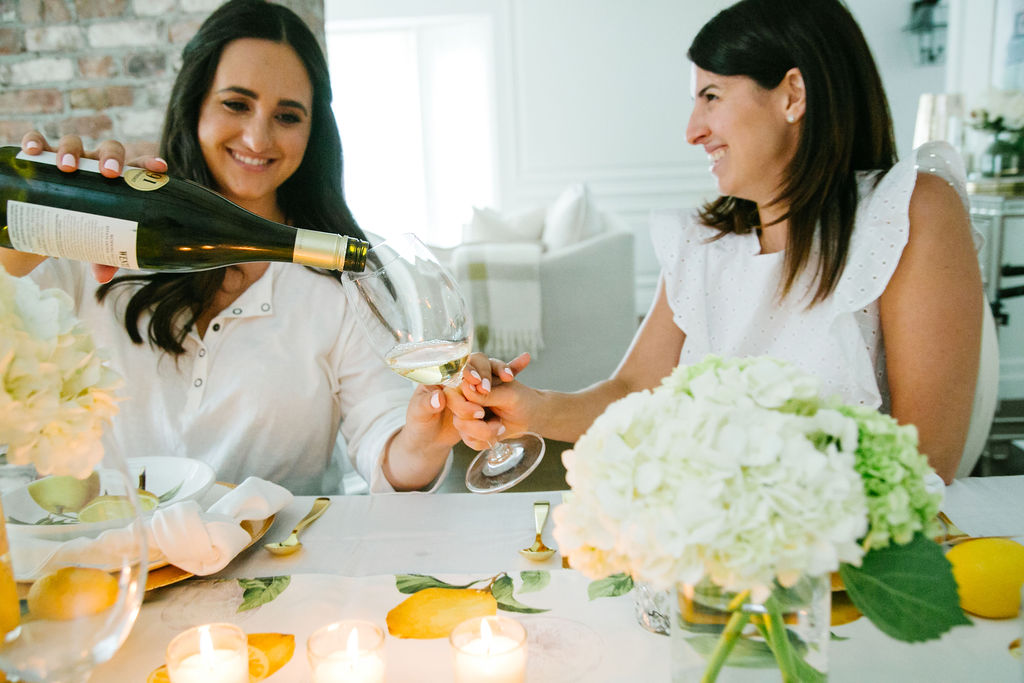 This is a table I put together for a ladies luncheon. I served lemon fettuccini with sausage meatballs, veal lemon piccata, a side salad with a lemon vinaigrette and a variety of lemony dessert, like lemon-ricotta cookies and a lemon coffee cake! I will put together this menu and share it with you with a downloadable menu printout to set your table with – keep a look out for that! The food spoke volumes about the theme and I made my own centrepieces using whole lemons, vases from the dollar store, hydrangeas from my garden and votive candles that I buy in bulk on amazon. Doesn't get simpler nor easier than that! Find three easy DIY lemon centrepiece ideas that I created for you, here.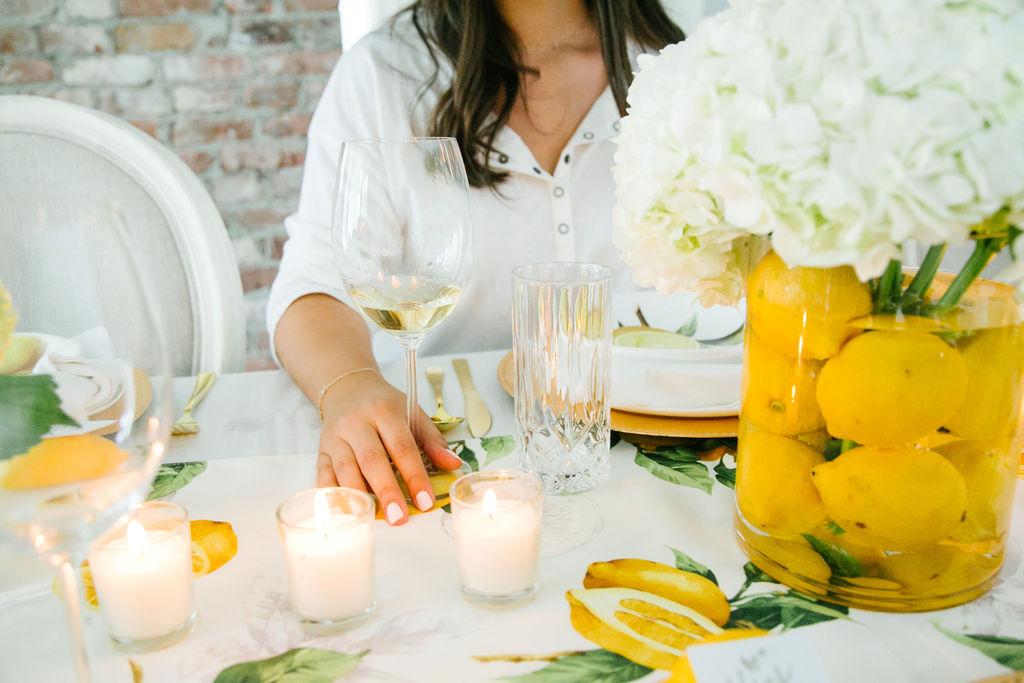 Voilà! XX