Photos by House of Stills
It can be quite difficult to find store-bought "healthy" snacks, and although I am not a huge snacker, I have my moments!… Plus I want to be able to put together some killer recipes of every kind for you guys. I was at my friend Elyssa's house earlier this spring and she was in the middle of trying to make some roasted chickpeas, when I remembered how much I love to make these, and how easy it is to season them to whatever your tastes are.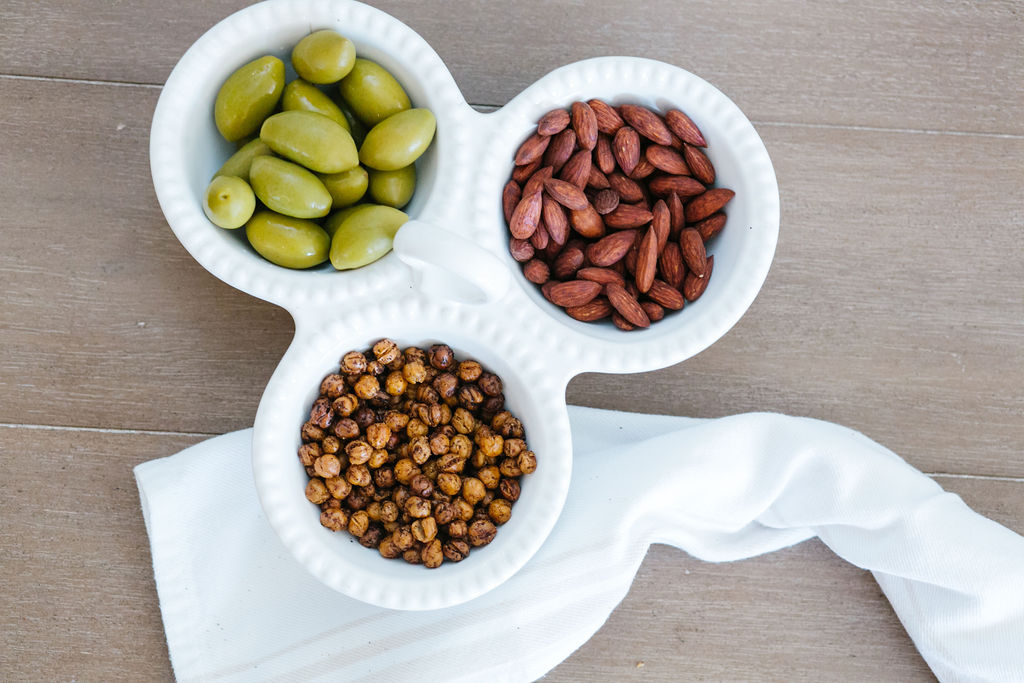 This is a great snack to serve with drinks, as well. It always reminds me of being in a hotel bar, somewhere far away, having a pre-dinner drink. The fancy hotels usually always serve some little snacks to munch on, and they're much like these.
The trick is to make sure you bake them long enough to make them crunchy, otherwise they won't be great. I always bake them on convection, because I find it bakes them evenly all around and ensures a true crisp. If you don't have a convection setting on your oven, then be sure to toss them often and change the direction of the baking sheet a few times, so that they are evenly baked and evenly crispy.
This recipe suggests certain spices to make up the seasoning, but you can choose whichever spices you like. I also love topping them with Tajin or Trader Joe's chili-lime seasoning, gives it more of a Mexican kick and it's delish!
Enjoy! XX
Roasted Chickpea Snack
Ingredients
1

can

chickpeas

strained & rinsed

2

tbsp

olive oil

1

tsp

garlic powder

1/2

tsp

chili powder

1/4

tsp

paprika

or smoked paprika

1/4

tsp

salt

1/4

tsp

black pepper
Instructions
Drain and rinse the chickpeas (for an even crispier result, remove the skin from the chickpeas – this can be time-consuming, but it's worth it!).

Set oven to 400 convection (if your oven does not have a convection setting, you will have to cook longer, tossing more frequently).

Lay flat on paper towel to dry completely (this could take up to an hour). Pat dry with paper towel to ensure they are completely dried (this is an important step, or else your chickpeas won't crisp up).

Toss the chickpeas in the olive oil to coat entirely and lay flat on a parchment paper lined baking sheet.

Bake in the oven for 45-50 minutes, tossing the chickpeas and turning the baking at the halfway mark.

Meanwhile, mix together all the spices, salt and pepper in a medium bowl – set aside.

Remove from the oven and toss with the mixed spices until entirely coated.

Serve immediately or keep in an airtight container at room temperature for up to two days.
Notes
You can mix together any spices of your liking – feel free to make it your own and according to your taste!